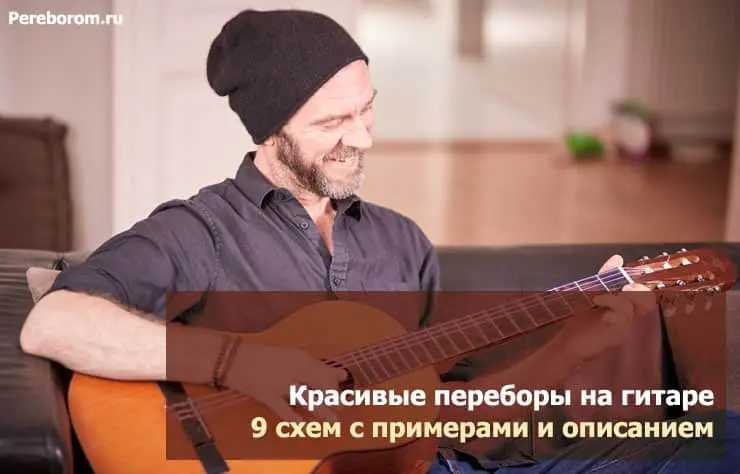 Beautiful guitar picks. 9 diagrams with examples and descriptions (Part 1).

Introductory information
If in non-electric guitar playing the mastery of the sweep technique and high-speed solos is considered the pinnacle of mastery, then mastering the fingerstyle is definitely one of the most serious achievements in acoustic playing. This way of playing requires perfect coordination of both hands, high fingering and fingering speed, and pure sound production from the guitarist. This playing technique allows you to seriously grow in composing any music, and will also give you a huge scope in creating arrangements. Almost all great guitarists, in one way or another, own or have owned fingerstyle. Just so you can learn how to play, beautiful guitar breaks and created this article.
The first stage is preparation. This means that if you have no idea how to play with your fingers at all, then it's better to go to types of enumeration for beginners, an article that describes the basic patterns that are best mastered before doing fingerstyle. There are 21 schemes in total, but they are quite simple. Of course, you can practice without preparation – but then everything will be much more difficult. One way or another, below is the first part of the article, with basic and not very difficult exercises.
Finger designations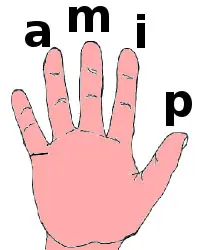 Before you start learning, it is worth saying about the designation of each finger. In these exercises and schemes, four of them are used – large, which is indicated by the letter "p", index, which is marked as "i", then – the middle one, under the letter "m", and nameless – "a". The little finger is not used.
For convenience, it is also worth saying that most often the thumb will be responsible for the bass strings, and the rest for the texture. Another tip is to purchase special plectrums that are worn on the finger. Thus, you will get the same attack on the string as when playing with a pick – the sound will become clearer and brighter.
Beautiful searches – tabs and schemes
1 schema
The first, and the simplest one, is very similar to a part not for a guitar, but for a banjo. In this case, the bass strings are 5 and 4. In addition, there are only three notes in it, which are played alternately with three fingers. The diagram looks like this:
Chords such as C, G, Am, as well as their various extensions and modulations, are great with this pattern. The key in this case is C, which makes it easy to experiment with chords inside it.
2 schema
The second pattern is already much more difficult, since its playing requires more coordination, as well as speed. The bass strings in this case are the sixth and fifth, as well as the fourth. Note that the texture note is double-velocity in some places, meaning that it should be played half as fast as the others. In addition, the second string at the fifth fret, which you pull at the beginning, should sound constantly – this makes the task much more difficult, since you need to play in such a way that your fingers do not muffle it. The scheme is as follows:

This pattern is perfect for blues and country, and also sounds great with a variety of seventh chords such as A7 or E7. However, classical triads will do as well. The key in this case is E.
3 schema
next view strumming on the guitar also quite complicated, but definitely worth it to spend time on it. It has a truly powerful groove, which, even with repeated playing, is able to take the listener to another dimension. This pattern can even be inserted into electric guitar songs, especially if you turn on a very booming distortion effect. The bass strings in this case are sixth, fifth and fourth.

Various forms of G, C, Am and their extensions can be used as a chord texture. Key – G.
4 schema
The main problem in this enumeration is the rhythmic pattern, which is called "swing". This means that the bass note lasts longer than the texture. That is, it turns out something like this – "One – pause – two – three – pause – two – three" and so on. You will have to get used to it, it will take some time to spend on guitar training.The bass strings in this case are from the sixth to the fourth.

E, C, B and their up and down derivatives work well for chord texture. Key – E.
5 schema
Pay attention to how the bass part is built in this pattern – it uses octaves, in fact, playing the same note. In general, there should be no problems with it. Bass strings – sixth and fourth.

For addition, you can use different chords in the key of E. This, for example, is the same E, F or F#.
6 schema
A very simple enumeration, for which you only need to use your index finger and thumb. In fact, it can even be played with a pick, using it as an intro before how to play the guitar some bluesy or heavy motif. Such a technique is very much used by modern heavy bands – playing some interval on a clear sound, and after – bursting with heavy riffs. There is only one bass string here – the fourth.

The chords for this search can be selected as follows – D, G, F and others included in the key of the search – D.
7 schema
The bass quarts used immediately give out country music in this enumeration. Here you can work out an important technique for fingerstyle – a pinch, when you play several strings at the same time, except for the lower ones. All in all, this is another pattern that can definitely be recommended for learning the basics of beautiful string picking. Bass – from the sixth to the fourth.

The chords used in this case can be, for example, C, related to it Am, F and others included in the main key – C.
8 schema
But in this case, the purest bluegrass is read, originally played on the banjo. This can be judged by the characteristic pinch on the weak beat. Best of all, the part will sound at a high tempo, and – let's be honest – played on the banjo. However, it is also suitable for acoustic guitar. Bass strings – from the sixth to the fourth.

In this case, the characteristic seventh chords, which are often used in country music, will sound most appropriate. It can be, for example, G7, D7 and others. The key in this case is G.
9 schema
And the last pattern, which is also good for a beginner. It will sound good on both acoustic and electric guitars, especially if you get a nice clean sound, richly flavored with delay, chorus and reverb. The bass strings in this case are sixth, fifth and fourth.

Beautiful strumming chords may be the following: A, E, Bm. The key in this case is A, so use the triads that correspond to it.
Conclusion and Tips
So, at the beginning of the article, we wrote that fingerstyle lies on three pillars – sound clarity, playing speed and coordination. And among this list, speed is the least important aspect. Therefore, in practicing these exercises, play under the metronome and slowly, making literally every note sound correctly – without muffling, ringing and bouncing. Gradually build up the tempo and set a goal for yourself to play the pattern cleanly, not quickly. Be sure to remember about the setting of the hands, and especially the right one, because a lot depends on it. It is then that you will embark on the right path of a finger-guitarist who performs works not only at a given pace, but also cleanly and clearly.