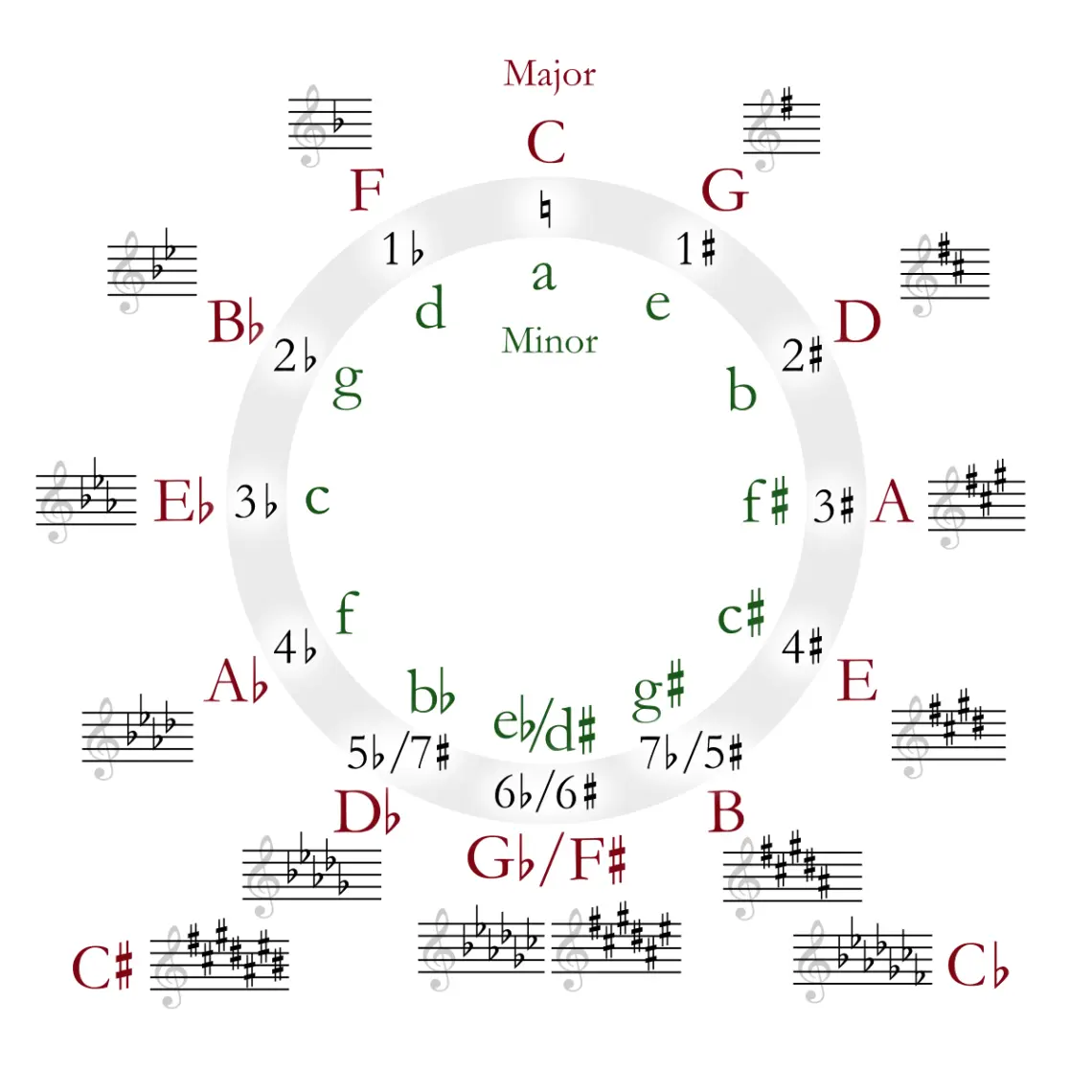 Keys of the same name are keys that have the same tonic, but the opposite modal mood. For example, C major and C minor or D major and D minor are the same names. These keys have the same tonic – Do or D, but one of these keys is major and the other is minor.
One name for two tones
Each person has a first and last name, that is, in order to name a person, it is necessary to say these two elements. It is the same with keys: in the name of any key there are two elements: tonic and mode. And these are also peculiar names.
Keys of the same name have the same name, that is, one tonic. And it costs nothing to come up with examples of keys of the same name: F-sharp major and F-sharp minor, G major and G minor, E-flat major and E-flat minor. Take any tonic and add to it first the word "major", and then the word "minor".

How do the tones of the same name differ?
Differences are easiest to identify with examples. Let's take and compare two keys – C major and C minor. There are no signs in C major, it is a tonality without sharps and flats. There are three flats in C minor – B-flat, E-flat and A-flat. Key signs, if they are unknown, can be recognized by the circle of fifths.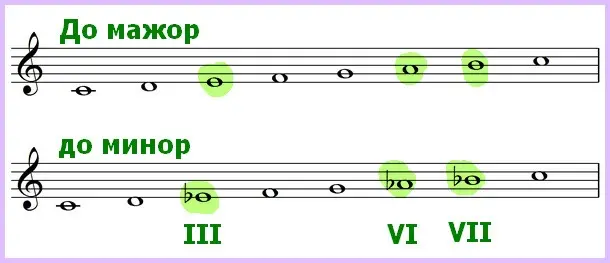 Therefore, C minor has three different steps compared to C major, in which the third, sixth and seventh steps are low.
Another example is the keys of E major and E minor. In E major there are four sharps, in E minor there is only one sharp. The difference of three signs immediately attracts attention (this was the case in the previous case). Let's check which steps are different. As it turned out, the same – the third, sixth and seventh. In E major they are high (with sharps), and in E minor they are low.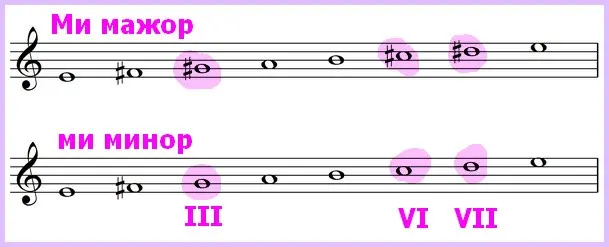 For correctness of conclusions, one more example. D major with two sharps and D minor with one flat. In this case, the keys of the same name are located in different branches of the circle of fifths: one key is sharp, the other is flat. However, comparing them with each other, we again see that the same third, sixth and seventh steps differ. In D minor, there is no F-sharp (low third), no C-sharp (low seventh), but there is B flat, which is not in D major (low sixth).

Thus, it can be concluded that the tonalities of the same name differ in three steps – the third, sixth and seventh. They are high in major and low in minor.

Major to minor and vice versa
Knowing the different steps in the same keys, you can easily turn major scales into minor ones, and minor scales, on the contrary, into major ones.
For example, let's turn A minor (tonality without signs) into A major. Let's raise the three necessary steps and it will immediately become clear to us that there are three sharps in A major – C-sharp, F-sharp and G-sharp. It remains to arrange these three sharps in the correct order (F, C, G) and write them down with the key.

Similarly, one can make metamorphic transitions from major to minor. For example, we have the key of B major (five sharps), the eponymous key is B minor. We lower three steps, for this we cancel the sharps that increase them, and we get that in B minor there are only two sharps – F and C.

Correlations of the same keys in music
Composers are very fond of combining the keys of the same name in their works, since such combinations of major and minor create subtle and expressive, but at the same time very bright contrasts in music.
One of the clearest examples of the combination of the same keys in one work is the famous "Turkish March" by Wolfgang Amadeus Mozart. This music is written in the key of A minor, but periodically a life-affirming refrain appears in it in A major.
Look, here is the beginning of the famous rondo, key in A minor: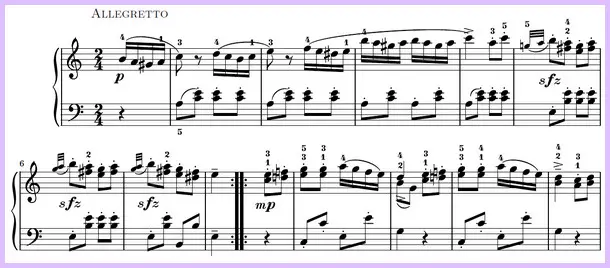 A little later, we see that the key has changed to a sunny A major: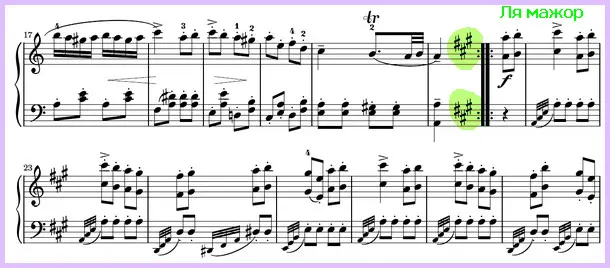 Well, now you can listen to the piece in its entirety. If you are a listener, you can even calculate how many fragments of this rondo will sound in A major.
Mozart – Turkish Rondo
So, from today's issue, you learned about what the keys of the same name are, how to find them and how to get a major scale from a minor one and vice versa. In the materials of past issues, read also about parallel keys, how to memorize signs in all keys. In the following issues, we will talk about which keys are related and what a tone thermometer is.