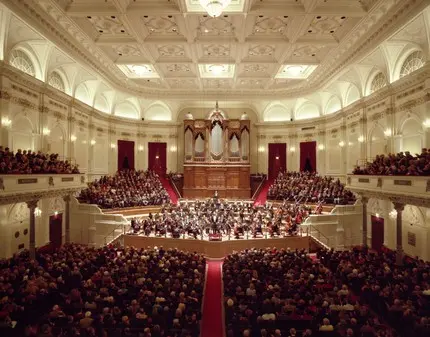 Royal Concertgebouw Orchestra (Koninklijk Concertgebouworkest) |
Koninklijk Concertgebouworkest
City
Amsterdam
Year of foundation
1888
A type
orchestra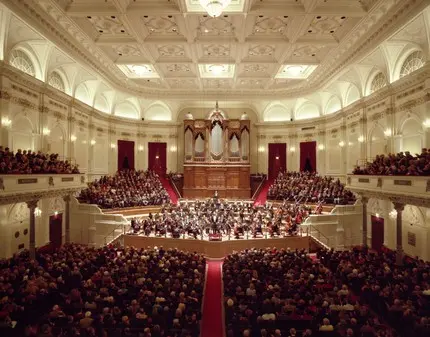 The Concertgebouw Orchestra was in Russia only once, in 1974. But at that time he had not yet taken the top line in the ranking of the ten best orchestras in the world, according to the British Gramophone magazine. At the end of the 2004th century, the orchestra was habitually third – after the Berlin and Vienna Philharmonics. However, the situation changed with the arrival of Maris Jansons as chief conductor: in four years, taking up the position in 2008, he managed to improve the quality of his playing and the status of the orchestra so much that in XNUMX he was recognized as the best in the world.
The sound of the orchestra is velvety, continuous, pleasant to the ear. The united power that an orchestra can at times demonstrate is combined with a developed, differentiated ensemble playing, which is why a huge orchestra sometimes sounds like a chamber one. The repertoire is traditionally based on classical-romantic and post-romantic symphonic music. However, the orchestra collaborates with contemporary composers; some of the works by George Benjamin, Oliver Knussen, Tan Dun, Thomas Ades, Luciano Berio, Pierre Boulez, Werner Henze, John Adams, Bruno Maderna were performed for the first time.
The first conductor of the orchestra was Willem Kees (from 1888 to 1895). But Willem Mengelberg, who led the orchestra for half a century, from 1895 to 1945, had a much more significant influence on the development of the orchestra. Under him, the orchestra began to actively play Mahler, and after him Eduard van Beinum (1945-1959) introduced musicians to Bruckner's symphonies. In the entire history of the orchestra, only six conductors have changed in it. Maris Jansons, the current chef, strengthens the repertoire "foundation" in every possible way, which to this day rests on four "pillars" – Mahler, Bruckner, Strauss, Brahms, but added Shostakovich and Messiaen to the list.
The Concertgebouw Hall is considered the base for the Concertgebouw Orchestra. But these are completely different institutions, each with its own administration and management, relations between which are built on the basis of a lease.
Gulyara Sadykh-zade