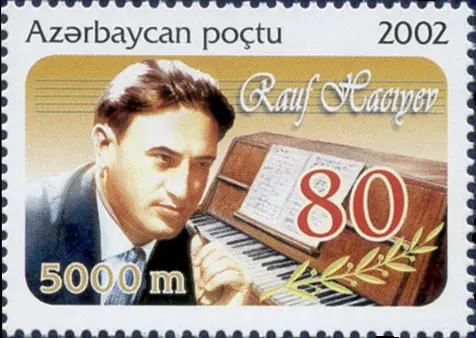 Rauf Sultan son of Hajiyev (Rauf Hajiyev).
Rauf Hajiyev
Date of birth
15.05.1922
Date of death
19.09.1995
Profession
composer
Country
the USSR
Rauf Hajiyev is an Azerbaijani Soviet composer, author of popular songs and musical comedies.
Gadzhiev, son of Rauf Sultan was born on May 15, 1922 in Baku. He received his composing education at the Azerbaijan State Conservatory in the class of the People's Artist of the USSR Professor Kara Karayev. Even in his student years, he wrote the cantata "Spring" (1950), Concerto for violin and orchestra (1952), and at the end of the conservatory (1953) Gadzhiev presented the Youth Symphony. These and other serious works of the composer received recognition from the musical community. However, the main success awaited him in light genres – song, operetta, pop and film music. Among Hajiyev's songs, the most popular are "Leyla", "Sevgilim" ("Beloved"), "Spring is coming", "My Azerbaijan", "Baku". In 1955, Hajiyev became the founder and artistic director of the State Variety Orchestra of Azerbaijan, later he was the director of the Philharmonic Society, and in 1965-1971 the minister of culture of the republic.
The composer turned to musical comedy early: back in 1940, he wrote the music for the play "Students' Tricks". Hajiyev created the next work of this genre only many years later, when he was already a mature professional master. The new operetta "Romeo is my neighbor" ("Neighbours"), written in 1960, brought him success. Following the Azerbaijan Theater of Musical Comedy named after. Sh. Kurbanov it was staged by the Moscow Operetta Theater. This was followed by the operettas Cuba, My Love (1963), Don't Hide Your Smile (The Caucasian Niece, 1969), The Fourth Vertebra (1971, based on the novel of the same name by Finnish satirist Martti Larni). R. Hajiyev's musical comedies have entered the repertoire of many theaters in the country.
People's Artist of the USSR (1978).
L. Mikheeva, A. Orelovich