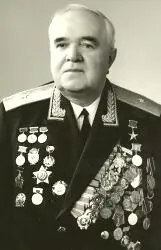 Boris Alexandrovich Alexandrov |
Boris Alexandrov
Date of birth
04.08.1905
Date of death
17.06.1994
Profession
composer, conductor
Country
the USSR
Hero of Socialist Labor (1975). Laureate of the Lenin Prize (1978) and the Stalin Prize of the first degree (1950) for concert and performing activities. Gold medal to them. A. V. Aleksandrova (1971) for the oratorios "The Soldier of October Defends Peace" and "Lenin's Cause is Immortal." People's Artist of the USSR (1958). Major General (1973). Son of composer Alexander Alexandrov. In 1929 he graduated from the Moscow Conservatory in the composition class of R. M. Glier. In 1923-29 he was the musical director of various Moscow clubs, in 1930-37 he was the head of the musical department of the Theater of the Soviet Army, in 1933-41 he was a teacher, then an assistant professor at the Moscow Conservatory. In 1942-47 he was artistic director of the Soviet Song Ensemble of the All-Union Radio.
Since 1937 (with interruptions) Alexandrov's activity has been associated with the Red Banner Song and Dance Ensemble of the Soviet Army (conductor and deputy artistic director, since 1946 chief, artistic director and conductor).
Alexandrov made a significant contribution to the creation of the Soviet operetta. In 1936 he wrote "The Wedding in Malinovka" – the most popular work of this genre, imbued with intonations of folk, mainly Ukrainian, songs.
S. S. Alive
Compositions:
ballets – Lefty (1955, Sverdlovsk Opera and Ballet Theater), Friendship of the Young (op. 1954); operetta, including Wedding in Malinovka (1937, Moscow operetta store; filmed in 1968), The Hundredth Tiger (1939, Leningrad music comedy store), Girl from Barcelona (1942, Moscow store operettas), My Guzel (1946, ibid.), To Whom the Stars Smile (1972, Odessa Theater of Musical Comedy); oratorio – Soldier of October defends the world (1967), oratorio-poem – The cause of Lenin is immortal (1970); for voice and orchestra — the suite Guarding the Peace (1971); for orchestra – 2 symphonies (1928, 1930); concertos for instruments and orchestra – for piano (1929), trumpet (1933), clarinet (1936); chamber instrumental ensembles – 2 string quartets, quartet for woodwinds (1932); songs, including Long live our state; music for dramatic performances and other works.