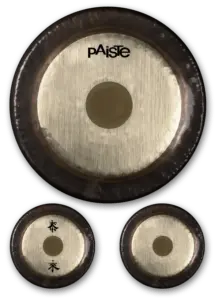 How to choose a new acoustic piano?
An acoustic piano, especially a new one, is an indicator of a professional approach to business. Spend at least 200,000 rubles. not everyone can play a musical instrument, and only those who understand what they pay for.
What do you pay for when you buy a new acoustic piano:
Excellent condition of the instrument. It is not so easy to assess the quality of a used piano yourself. If you have read our article

"How to choose a used acoustic piano?"

, then you know why (and you know why you shouldn't trust the tuner!). When buying a new piano, you don't have to study tons of materials yourself, watch hours of instructional videos… and still be unsure of your choice.

Much less unpleasant surprises. Whether the instrument can be tuned, whether it will lose tune in the next six months, whether a major overhaul or even restoration is needed – all these questions disappear by themselves when buying a new piano. It is often more expensive to repair a used tool than to buy a new one.

Even fewer surprises. No one is immune from hidden damage that occurs during improper storage and use. Also, each instrument has its own lifespan, and no one knows when this life will end for a used piano. With a new piano, everything is simple: it is always guaranteed.

It's easier to break up. Agree that it is much easier to resell a piano that was before you with a new one: you know exactly in what conditions it was stored, who played it, where it was taken.

Shipping. Troubles with the transportation and installation of a new piano will be taken over by the seller, while guaranteeing its safety. In the case of a used tool, you yourself will have to control this process, because. The previous owner won't take it back.

When choosing a new piano, pay attention to:
Material. The sound quality depends on the material of which the body and soundboard are made . Experts recommend precious woods: beech, walnut, mahogany. The most resonant instruments are made of spruce. Every self-respecting company definitely makes deco from spruce. Researchers of the 19th century found that the speed of sound in spruce wood is 15 times greater than in air.
Finding a suitable tree for a piano is not easy: a musical spruce must grow for more than a hundred years on the northern slope of a hill in a special soil, have even rings in the wood without any defects. Therefore, a good musical tree is expensive, and with it the piano itself.
Tool design. Each manufacturer has their own secrets to creating the perfect piano. The traditions of German masters and new unique technologies developed over the centuries are at a great price. The higher the class of the instrument, the more work is done by hand, for example, the manufacture of a premium piano requires up to 90% manual work. Accordingly, the more mass and mechanized production, the lower the class and cost.
The lineup. It is believed that the more models a company produces, the better the models themselves.
Price-quality ratio. A good German piano can be found for fabulous money, or at an affordable price. In the second case, the company will turn out to be not so stellar, but this does not mean that the tool will be much inferior in quality.
Sales volumes. Compare companies within your price range: many European manufactories are now cooperating with Chinese partners and mass-producing consumer-grade pianos. Of course, these instruments do not compare with premium-class piece production, either in quality or in the number of models sold.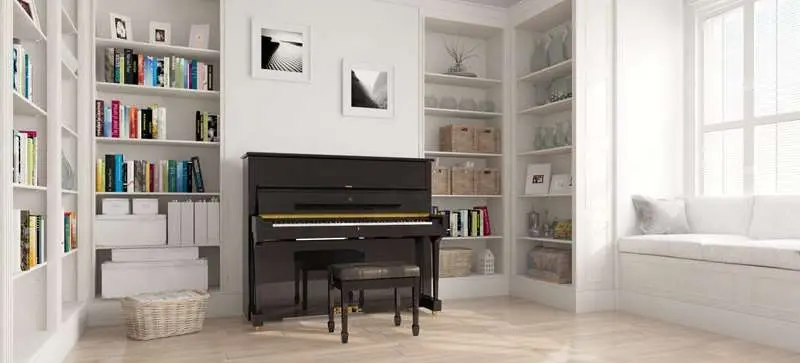 The piano is an expensive instrument, it requires painstaking and fine work. Moreover, the quality depends not only on materials, but also on special technologies that have been developed and polished by leading craftsmen for centuries. Therefore, traditions and craftsmanship are especially valued, which in themselves are akin to art. Hence the classification:
Premium class
The most luxurious pianos – elite instruments – last a hundred years or more. They are made almost by hand: more than 90% are made by human hands. Such instruments are produced piece by piece: this ensures the reliability of the instrument and excellent abilities in terms of sound extraction.
The brightest are Steinway&Sons (Germany, USA), C.Bechstein (Germany) – a piano with a long rich history and old traditions. Grand pianos of these brands adorn the world's best stages. Pianos are not inferior in quality to their "big brothers".
Steinway & Sons is renowned for its rich, rich sound, with over 120 patented technologies, one of which combines the side walls into a single structure.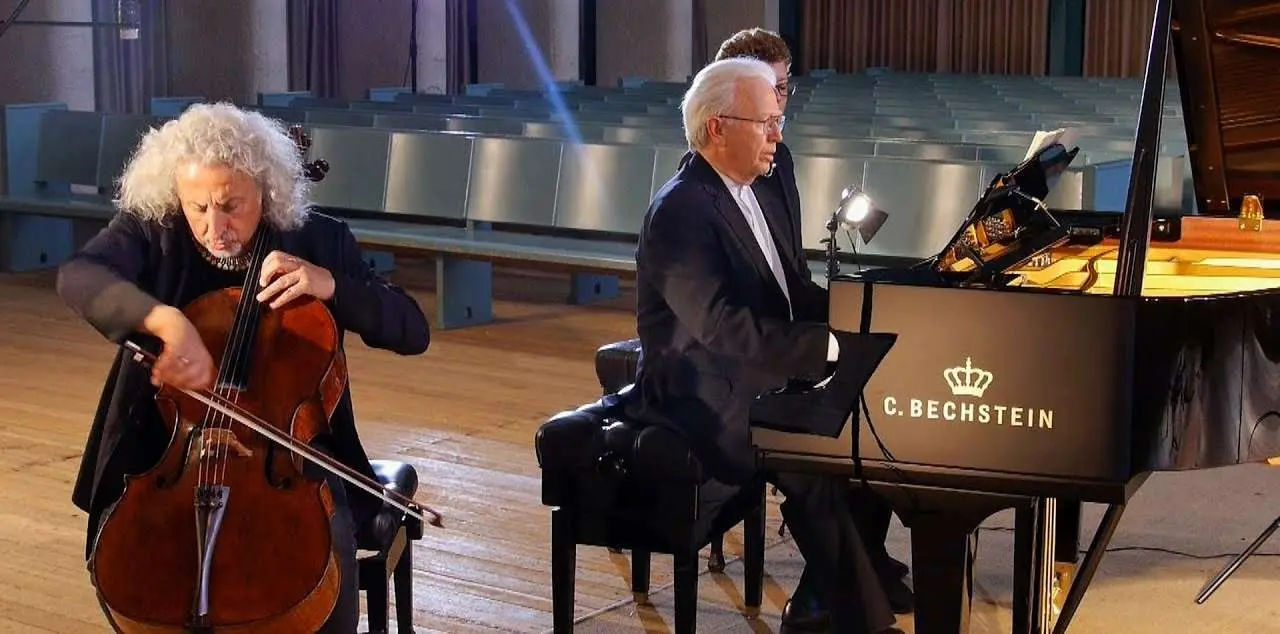 Pictured is a C.Bechstein piano
C.Bechstein, on the contrary, wins hearts with a soft soulful sound. It was preferred by such masters as Franz Liszt and Claude Debussy, convinced that only C.Bechstein could compose music. In Russia, this instrument was especially loved, even the expression "play the Bechsteins" came into use.
Mason&Hamlin is another company that manufactures high-end grand pianos and upright pianos (USA). Known for using innovative technology in deck construction. The soundboard retains its shape – and, accordingly, the original resonance – due to the fact that power bars made of inflexible steel are fan-shaped under the soundboard (for the piano – in the frame), tuned by a specialist at the factory – and hold their position forever, regardless of age and climatic conditions. Thanks to this, the piano can be used for many years without compromising the playing qualities of the mechanism and the soundboard.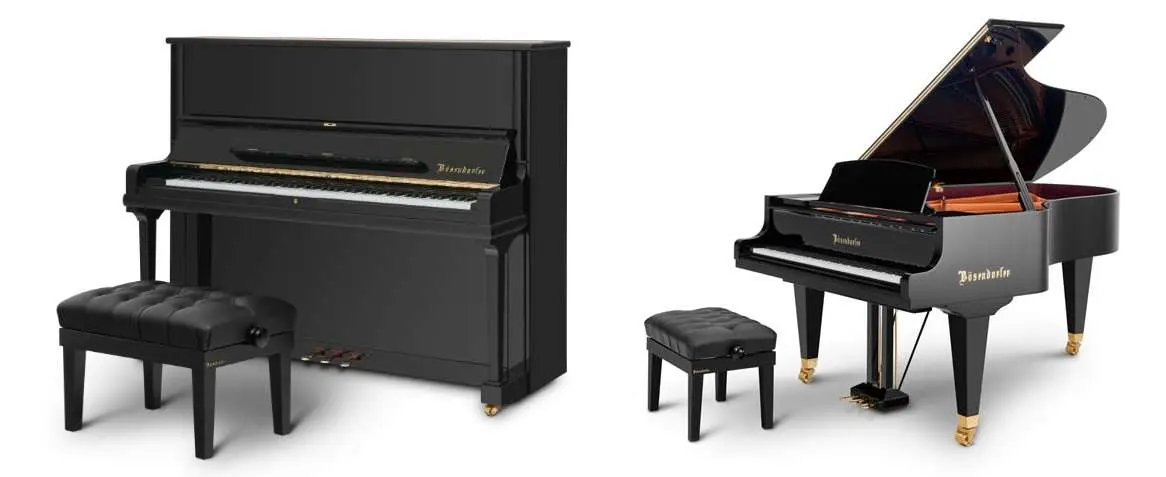 Piano and grand piano Bösendorfer
The Austrian Bösendorfer makes the body from Bavarian spruce, hence the rich, deep sound. In the 19th century, the company was the official supplier of grand pianos to the Austrian court. And today it stands out not only for its quality, but also for its unique instruments with 92 and 97 keys instead of the usual 88 (with additional lowercase keys ) . In 2007, Yamaha took over the company, but pianos continue to be produced under the Bösendorfer brand: Yamaha does not interfere in the production process.

Piano Steingraeber & Sohne
The piano of the truly German company Steingraeber & Söhne is not inferior in its musical qualities to some grand pianos and therefore is often used even on stage. For example, the Festival Theater of Bayreuth (the birthplace of the piano) has been actively using the 122 model for many years . Since 1867, the company has been a family business and has been manufacturing premium pianos (Best Piano in the World award) to individual orders at the Bayreuth manufactory. No serial production, Chinese factories and other nonsense. Everything is serious in German.
high class
When creating a high-class piano, masters are replaced by machine tools with numerical control. In this way, time is saved up to 6-10 months, although production is still piecemeal. Tools serve faithfully from 30 to 50 years.
Blüthner are genuine German upright pianos made in Leipzig. In the 60s of the 19th century, Blüthner supplied pianos and pianos to the courts of Queen Victoria, the German Emperor, the Turkish Sultan, the Russian Tsar and the King of Saxony. In 1867 he received the main prize at the Paris International Exhibition. Blutner was owned by: Claude Debussy, Dodi Smith, Max Reger, Richard Wagner, Strauss, Dmitri Shostakovich. Pyotr Ilyich Tchaikovsky said that Blutner is perfection. Sergei Rachmaninov wrote in his memoirs: "There are only two things that I took with me on my way to America… my wife and my precious Blutner."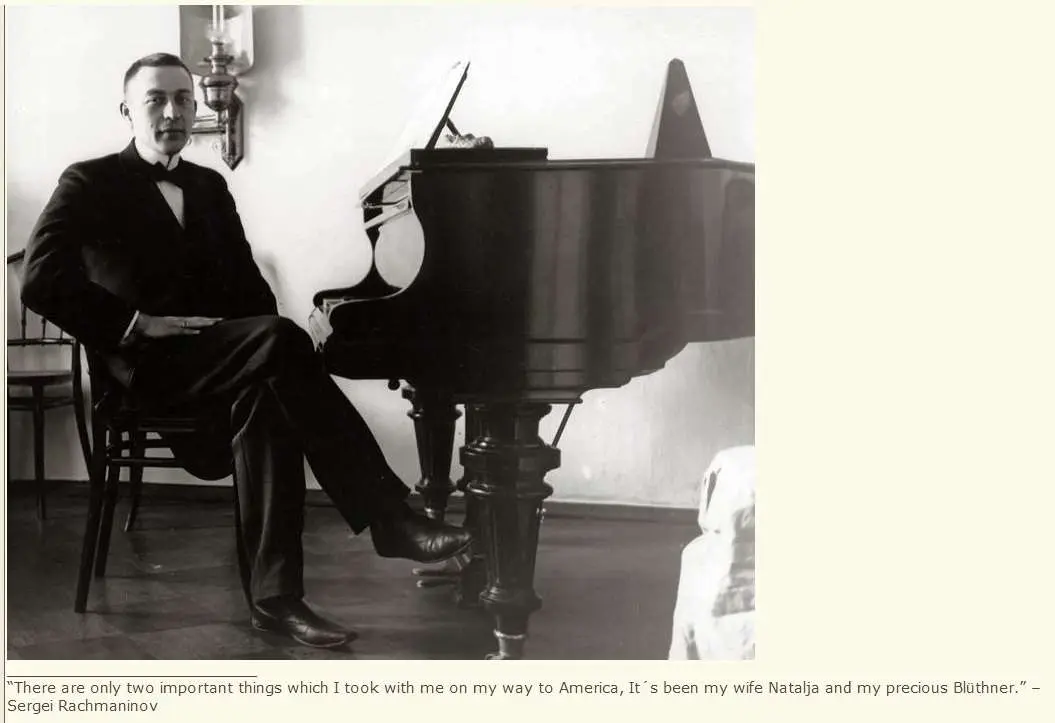 Rachmaninoff and his Blüthner piano
Seiler , Europe's largest piano manufacturer, dates back to 1849. At that time, Eduard Seiler made his first piano in the city of Liegnitz (territory of eastern Germany until 1945). Already in 1872, the Seiler piano was awarded the Gold Medal in Moscow for its excellent sound. With this success in Moscow, the rapid development of the company begins. By the beginning of the 20th century, Seiler had become the largest piano factory in East Germany.

Piano and Piano Seiler
The French Pleyel is called the "Ferrari among pianos" . The production was founded by the Austrian composer I.J. Pleyel in 1807. And by the end of the 19th century, the factory had become the largest piano manufacturer in the world. Now the price of these pianos varies from 42,000 to 200,000 euros. But in 2013, the production of new Pleyel was closed due to unprofitability.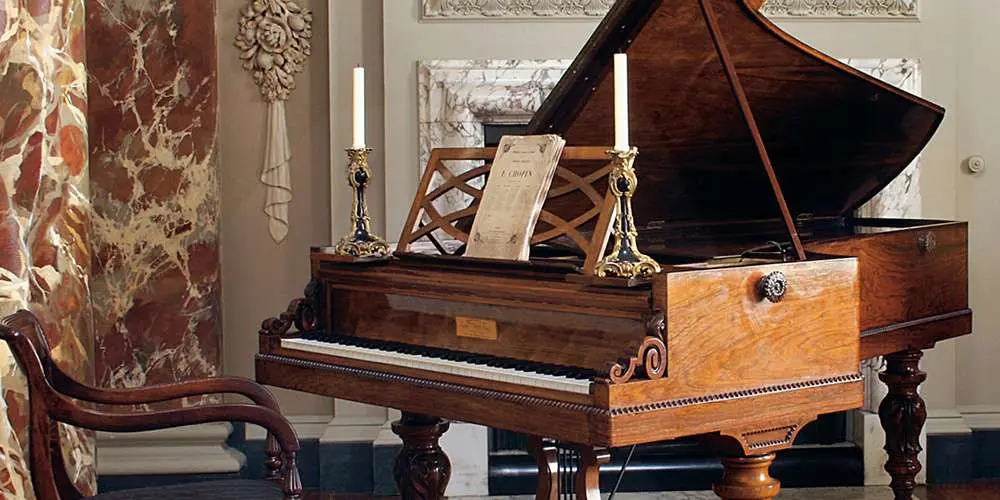 Pleyel Chopin
Middle class
Pianos of the middle class are made even faster – in 4-5 months, and immediately in series (not for individual orders); serve for about 15 years.
Zimmermann . These pianos are manufactured in the Bechstein factory using the same techniques used in the production of Bechstein grand pianos. Piano parts are made from specially selected materials, carefully processed and connected using high technology. That's why Zimmermann pianos have a smooth, clear sound in all registers .
August Förster from East Germany, on which Giacomo Puccini wrote the operas Tosca and Madama Butterfly. The main factory is located in the city of Löbau (Germany), in the 20th century a subsidiary was opened in Jiříkov (Czech Republic). The masters of August Förster are ready to experiment and surprise with their instruments. So in 1928, an innovative quarter-tone piano (and grand piano) was created for the Russian composer I. Vyshnegradsky: the design consisted of two mechanisms , each of which had its own frame, soundboard and strings. One mechanism was tuned a quarter tone higher than the other – to perform the amazing works of Vyshnegradsky.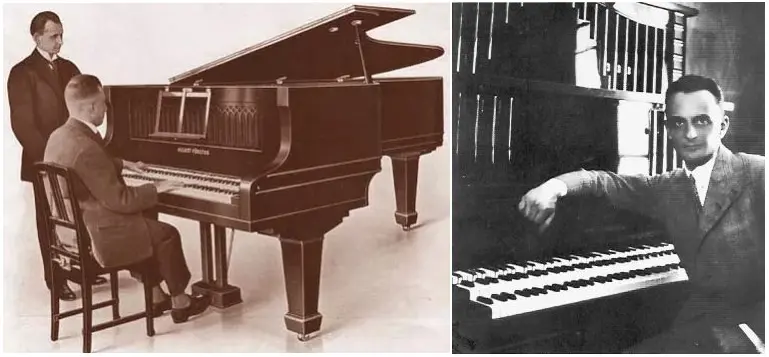 Quarter-tone grand piano and piano August Förster
The German company Grotrian-Steinweg was founded by the same person as Steinway & Sons in America, Henry Steinway (known before emigrating to the USA under the name Heinrich Steinweg). Then his partner Grotrian bought the factory and bequeathed to his sons: "Guys, make good instruments, the rest will come." This is how the innovative star-shaped footor frame and many other technical developments were created. Since 2015, the company has been cooperating with the Chinese company Parsons Music Group.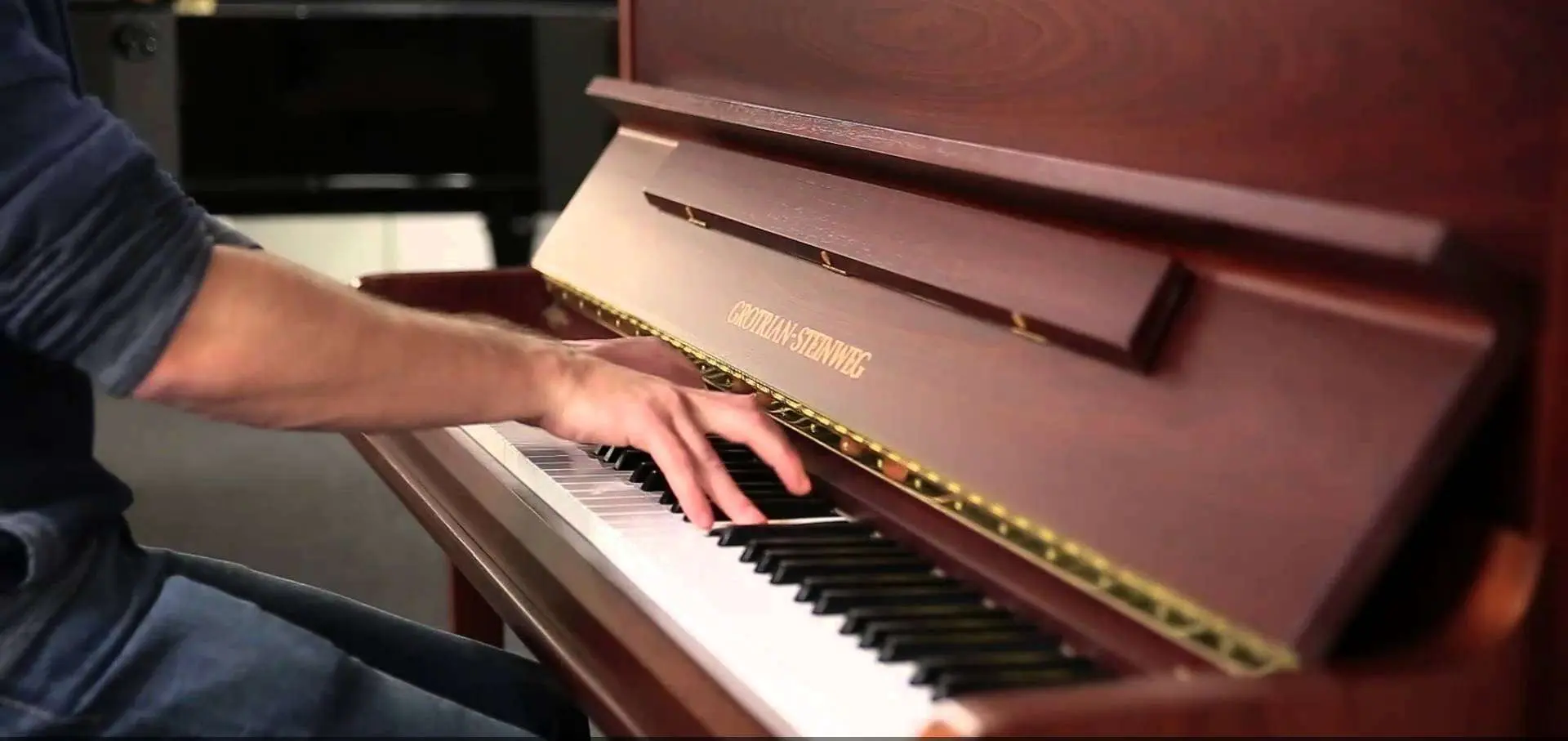 Piano Grotrian-Steinweg
W. Steinberg instruments , born in Thuringia 135 years ago, are still being made in Germany. The W.Steinberg piano consists of more than 6000 parts, 60% of which are made of wood, including a soundboard made of Alaskan spruce. The soundboard , the soul of the piano, goes through a series of meticulous quality checks, resulting in a sound that is bright and rich. Loyalty to 135 years of tradition and modern technology make these instruments really cool.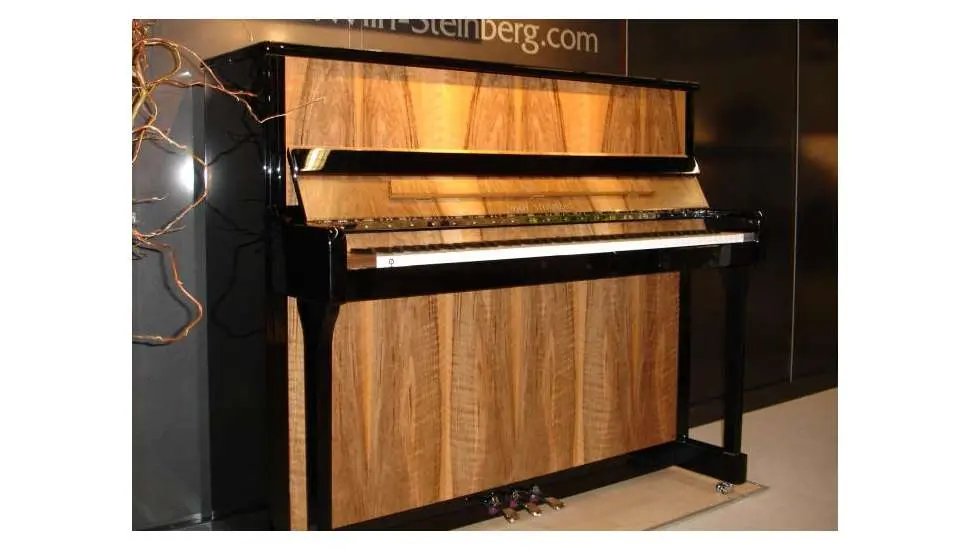 Piano W.Steinberg
Manufacturers of German pianos Sauter put sound at the forefront, so until now, like 200 years ago, the main parts that create the soul of the piano are made by hand.
The best-selling German pianos in the middle of the 20th century are Schimmel . Now expanded the line of grand pianos and pianos. For the middle class, the "International" series pianos are produced: a simple design based on the more expensive "Classic" series, key parts are made in Germany.
A pleasant Russian name is given to Czech pianos Petrof , which have won recognition all over the world: Petrof has repeatedly received gold medals at prestigious European exhibitions. Petrof is very common in Russian educational institutions: perhaps there is not a single music school without a piano from this manufacturer.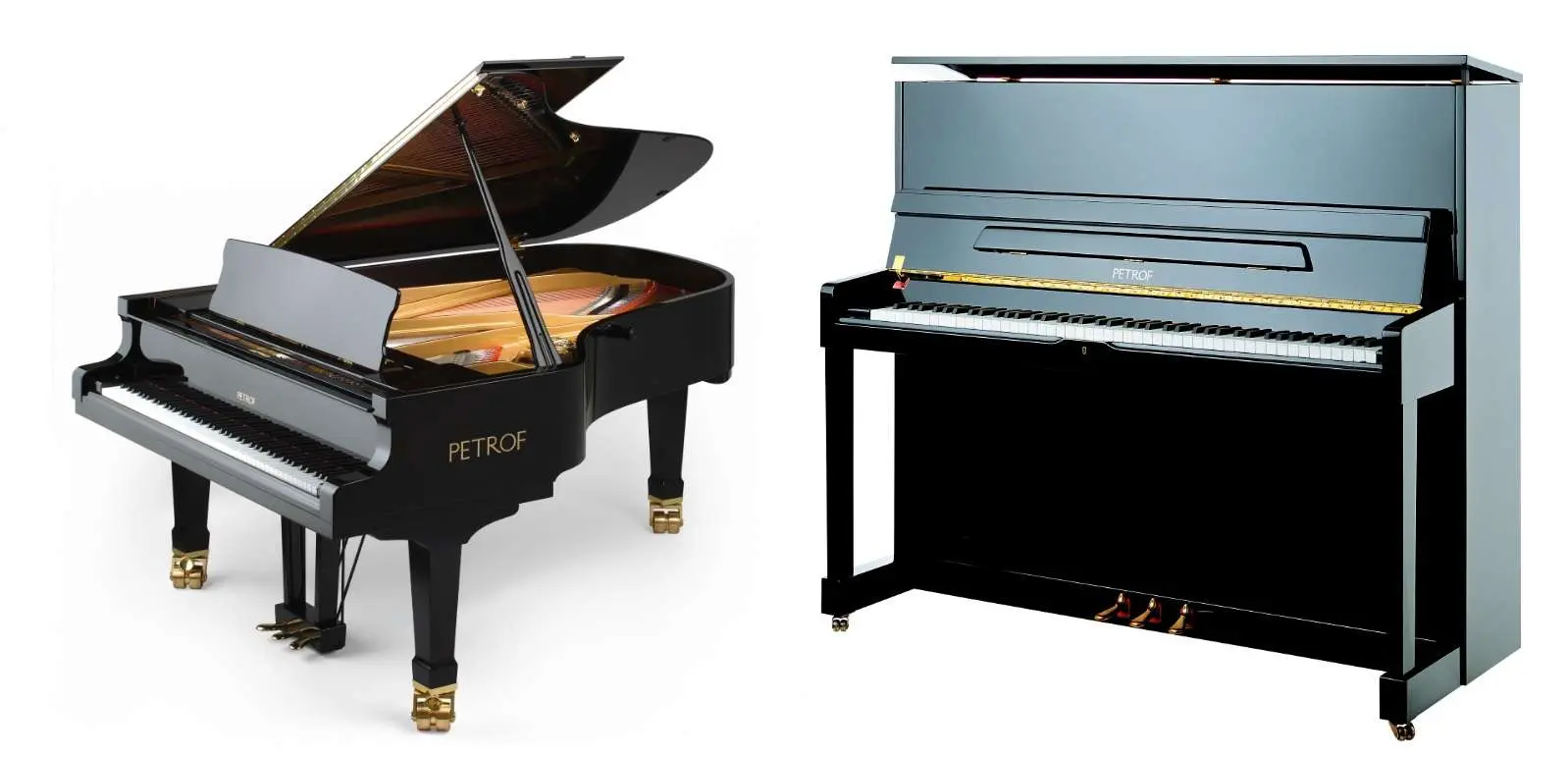 Grand piano and piano Petrof
Worthy competition for the Germans in the manufacture of pianos was made up by the Yamaha concern . Yamaha is a recognized leader in many industries, including acoustic pianos. Thorakusu Yamaha began his ascent precisely with musical instruments. To this day, Yamaha's first-class pianos embody the highest standards of quality and elegance. Each piano is built with traditional Yamaha technology, using the latest Yamaha engineers and designers.
Yamaha grand pianos are among the highest in the world. The same technologies are used in the production of pianos. Yamaha factories are located in Japan, Kokegawa, where the most expensive models are made, and in Indonesia (consumer class models).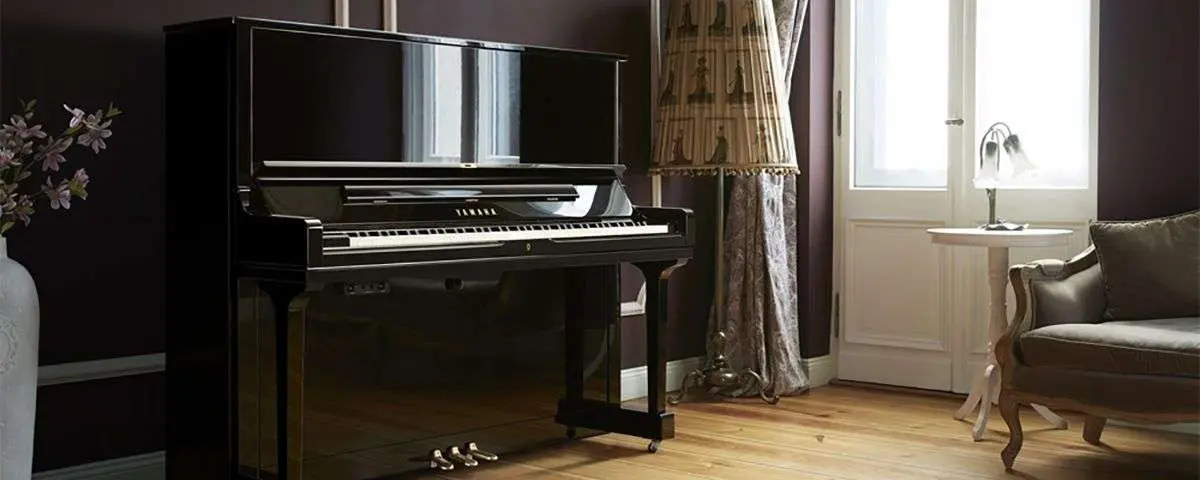 Upright piano
consumer class
Moving from Germany to the east, we are gradually leaving the realm of high piano art and moving on to consumer-class models. It has a lower price threshold of 200,000 rubles, so compared to digital instruments, these pianos still remain giants of musical skill.
It takes 3-4 months to make such a piano; the instruments serve for more than ten years. Production is automated as much as possible, therefore mass production. These pianos include:
South Korean pianos and Samick pianos . In 1980, the outstanding piano master Klais Fenner (Germany) began working at Samick. Under its own brand, Samick produces pianos made of different types of wood, as well as a large range of pianos under the brands: Samick , Pramberger, Wm. Knabe & Co., Kohler & Campbell and Gebrüder Schulze. The main production is located in Indonesia. Many instruments use Roslau strings (Germany).

Piano and grand piano Weber
The South Korean concern Young Chang produces Weber pianos . Founded in 1852 in Bavaria, Weber was bought out by the Koreans in the middle of the 20th century. Therefore, now Weber tools, on the one hand, are traditionally German, on the other hand, they are affordable, because. manufactured in China, where Young Chang has built her new factory.
Kawai Corporation , founded in 1927 in Japan, is one of the leading leaders in the production of pianos and grand pianos. Shigeru Kawai concert grand pianos compete with the best premium grand pianos. The company has established production in Japan, Indonesia and China. If a tool is made in Japan from beginning to end, it falls into the group of high-end instruments. More affordable are pianos of Indonesian or Chinese assembly (even with Japanese parts).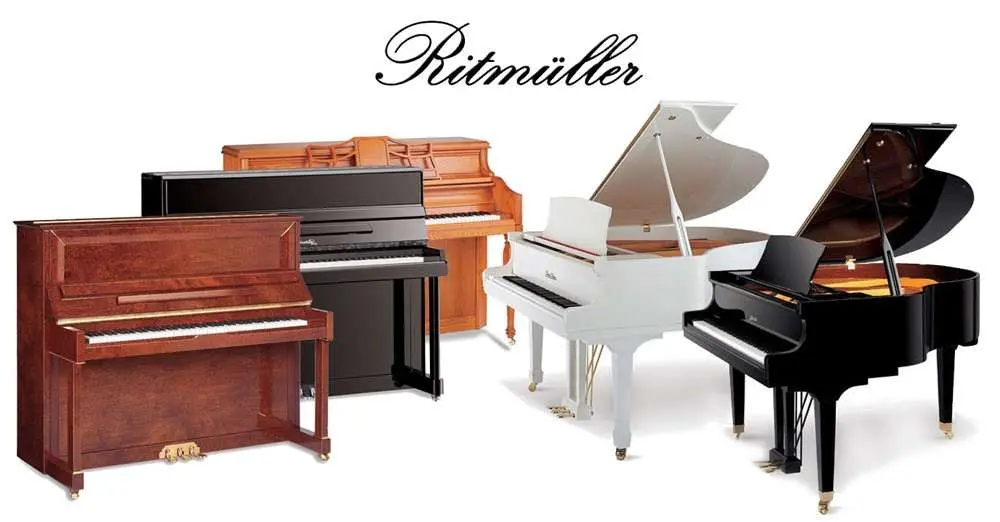 Pianos and grand pianos Ritmuller
Ritmuller pianos , which have existed since 1795, are famous for their commitment to the European traditions of musical craftsmen. In terms of construction, they are distinguished by a double deck, which makes the sound warm and rich (known to us now as "Euro Sound"). After merging with a major Chinese musical instrument manufacturer, Pearl River , they were able to increase production capacity and make more affordable pianos while maintaining the traditions of European masters.
Pearl River also produces its own pianos, using some German components, including Roslau strings and Ritmuller action.

The combination of European quality and Chinese capacities gave the mass buyer such pianos as Brodmann (a company with a two-century history, Austria-China), Irmler (quality from Blüthner, Germany-China), Vogel (with Shimmel mechanics, Poland-China), Bohemia ( absorbed by C. Bechstein, Czech Republic-China) and others.
When choosing a piano, you will inevitably come across data based only on personal tastes and preferences. This is typical of the arts. There are experts who scold the new Chinese pianos very strongly, there are those who call used instruments junk and "firewood". Therefore, study the market, focus on your needs and opportunities, listen to the instruments and trust yourself more.
Author Elena Voronova
Choose an acoustic piano in the online store "Student"