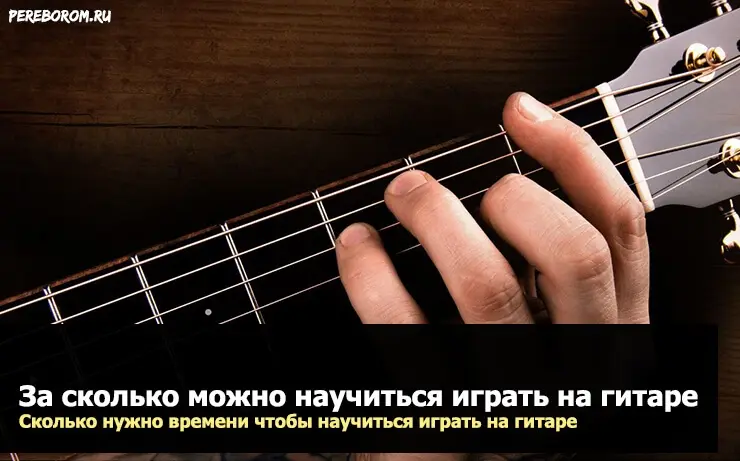 How long does it take to learn how to play the guitar. How long does it take to learn how to play the guitar

How long does it take to learn how to play the guitar. general information
Another question that is asked by those who plan to master the instrument is How long does it take to learn how to play the guitar? There is not much information on the Internet about this, and in this article we will clarify in detail what the numbers may depend on and what they are on average.
Conditions of Learning
A very important factor in your progress in learning is how you approach it and what sources you use. In addition, it is very important to engage constantly and regularly do exercises and repeat the material. If you play the guitar once a week for half an hour without really studying anything, you will never learn. Here we will consider the variant of the average development of events, when the guitar is given half an hour or an hour a day. Of course, the final figures will depend solely on how often or less often you practice the instrument.
It should also be said that learning to play an instrument is an endless process. This article will provide information how long does it take to learn how to play the guitar from zero level to gaining the skills of a more or less average guitarist. There is only one reason – after that you begin to dig into private and separate moments, it is very difficult to evaluate training in terms of time.
Lessons with a teacher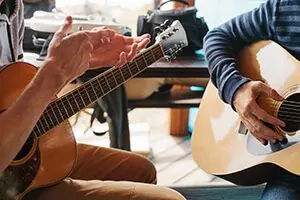 The most efficient way learn to play guitar – This is a class with a teacher. With a good mentor and competent homework, you can play your first song in 2-3 weeks. It is important to note that from the very beginning, progress will be felt slower than it will be afterwards. The reason for this is physiological, as your hands and especially your fingers will get used to the strings and instruments. However, with painstaking studies, the first achievements will not keep you waiting. The author of these lines was able to more or less play his first simple composition already two weeks after the start of classes from scratch.
When your fingers become rough, then after about two months you will be able to confidently play several compositions in battle, and one or two – by brute force. You may be able to play some simple pieces if you stick to fingerstyle yourself.
With purposeful practice of the barre, you will start to get it already in the third or fourth month of training, and after a little more time you will be able to play songs with it.
During this period, you can also optionally learn how to read tablature and play simple solo parts.
We can say that after about six months of effective work with a teacher, you will already be able to reach the level of a confident beginner who can even get into the middle group without any complaints.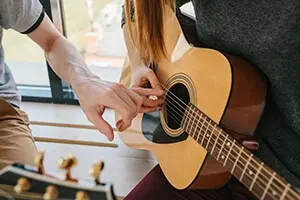 After that, in about three to four months you will master the guitar at such a level that you can compose and play solos of average complexity without very fast passages. Along with this, riffs also come – this is if you develop exactly the electric guitar. Those who master fingerstyle will be able to create arrangements of medium pieces and play them confidently around this moment too. At the same time, you will also begin to feel that you are slowly approaching a point where the process of gaining new knowledge will slow down a lot.
And finally, after a year and a half of painstaking work with a teacher, you will most likely master the speed playing techniques at the initial level, and with due diligence, you can play almost any song, maybe at a slightly slower pace. You are still not a virtuoso, however, you have enough skills and knowledge to play in almost any band.
So, with the help of an experienced teacher, it will take you about a year and a half to go from a complete zero to the level of an average guitarist.
Selfeducation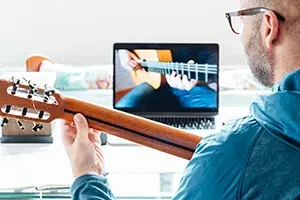 This is where things get a lot more complicated – because you have to look up the information yourself. The easiest option here is to find quality online courses or video schools that will be very similar to private teachers in their learning process. With them, you can learn to play your first very simple composition after one or two weeks. It is worth noting that this composition will most likely be played on open strings and will be more of a demonstration of the result than a full-fledged thing that can be performed.
Otherwise, the time frame of online courses is very similar to private teachers – you will be able to perform the first full-fledged song in 2-3 weeks, and in six months you will know the instrument at a confident level.
Many of these courses are paid. If you are interested in trying it, but do not want to pay money, we recommend using our free guitar course for newbies. It will give you all the information you need to start learning guitar from scratch.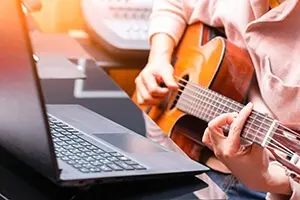 The most difficult and long road is a completely independent study on various articles on the Internet and videos on YouTube. With this format, you will not have any program and training system, you will have to touch everything by touch. In this case, the study of the first serious composition may take up to 4-5 months – it is during this period that you will learn, for example, how to play guitar chords. The reason here is the lack of proper exercises and a lack of understanding of what you are generally doing right or not. You will almost certainly step on every possible rake, which will significantly slow down learning.
You can reach a more or less decent level in about 8 months of regular play. However, it is worth considering the considerable likelihood that in some aspects you will be inferior to the guitarists who studied with the teacher – in particular, in terms of technique and purity of execution. Around the same time, you will learn how to read tablature and how to barre.
But with regard to fast parts and passages, you may feel that you are running into the problem of technique and incorrect hand placement. Here you will have several options – you either go to relearn and lose time, or continue learning and master the material at a slow pace. In the second case, you will reach an acceptable level in about four to five months. In total, you will spend about a year on training.
It will take the next 6-8 months to learn how to play complex compositions, and it's not certain that you will succeed – the reason will be the same hand placement. We can say that in this format you will reach the level of a confident guitarist in about two years.
See also: Is it difficult to learn to play the guitar
Common myths
In this section, we have collected the most common myths about guitar training.
You can learn how to play quickly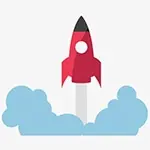 Mastering any musical instrument is a long and painstaking process, especially if you have never tried to play music before. Yes, during the beginning of your training, you will regularly see progress and the result of your actions, but in the future, assimilation of new information will be slower and slower.
Remember that behind every trick of the game is a huge number of hours of practice and playing under the metronome. The first songs are really mastered quickly – but this is only a small drop from what hides such a huge layer of information.
Learning takes a lot of time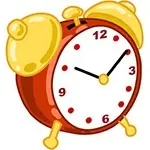 This myth is only half false. At the start of your training, in order to achieve an acceptable level of playing, it is enough for you to devote half an hour to an hour a day to the instrument, and you will already feel the result. The most important thing here is regularity.
But, of course, in the future, in order to speed up the development of some tricks or learn a complex composition, you will have to sit at the guitar for several hours, but if your goal is just to learn how to play basic things, then you can not be afraid of such a prospect.
You need to start playing at a fast pace right away.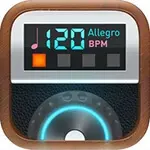 This is absolutely not true. First of all, you need to learn how to play slowly, because everything you can play at a slow pace will also work at a high one. Always start at a slow pace and gradually build up as you learn.
It doesn't matter how the hands are placed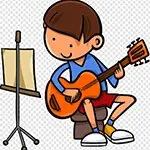 On the Internet, you can often hear the opinion that technology does not mean anything, and most importantly, it is a kind of "soul". Of course, the music itself needs to be given a huge amount of attention, but the technique and placement of hands determines not only the number of your instruments for self-expression, but also the quality of what you do. Even the most beautiful and interesting musical idea, played poorly, loses much of its charm.
Therefore, during training, do not neglect the exercises for setting the hands, and devote time to this issue.
Theory can't be taught.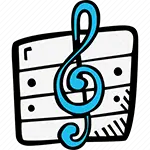 This myth is also only half true. If you are sure that you do not want to write your own songs, then in general, you can not devote much time to studying theory.
If you are planning to take up music closely, give concerts and create your own material, then be sure to start studying music theory. Regularly analyze the songs you play, not only in terms of what is being played, but also in terms of why. In this way, you will greatly expand the space for creating music, as well as get an understanding of how to achieve this or that emotion in your songs.