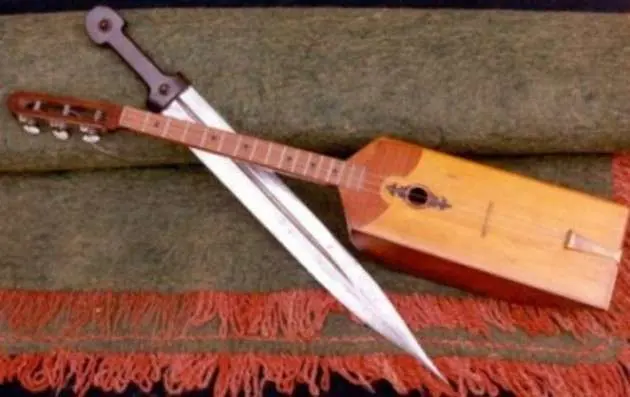 Dechig pondar: design and manufacture of the instrument, use, playing technique
In the middle of the XNUMXth century, a special genre of heroic-epic narration, illi, began to develop in Chechnya. The main moral and spiritual and moral values ​​of the mountain people were conveyed in songs, legends and tales. As an accompaniment, a stringed plucked musical instrument dechig pondar, reminiscent of a Russian three-stringed balalaika, was used.
Устройство
The instrument was made from a single piece of walnut wood. The soundboard is flat, slightly curved and ends with a narrow fretboard with frets, which were a winding of dried animal veins. The strings were made from the same material. Translated into Russian, the Chechen name dechig pondara means "action lived."
The length from the base of the deck to the end of the head is 75-90 centimeters. The technique of the Play could be very diverse. The musician struck the strings up or down, used a pinch, rattling, tremolo. The structure of the three-string mountain balalaika "do" – "re" – "sol". The sound of dechig pondura is rustling, the timbre is soft.
Role in the orchestra
In the 30s of the last century, composer Georgy Mepurnov, who has Georgian roots, created an orchestra from national musical instruments. He also included dechig pondar in it, which now sounded like piccolo, al, bass, tenor, prima. To increase the volume of the sound, mediators began to be used. The use of the mountain balalaika allowed the composer to include ancient national musical works that are difficult to reproduce in the orchestra's repertoire.
There are few people left in the Caucasus who can make dechig pondur, but the instrument itself does not lose popularity. It is included in the curriculum of music schools and conservatories, sounds at holidays in the homes of the Ingush and Chechens. The simplicity of the design can create a misleading impression that learning to play the Chechen balalaika is easy. In fact, only true masters can masterfully play on three strings.
Дечиг-Пондар чеченец играет!!! Нохчи!