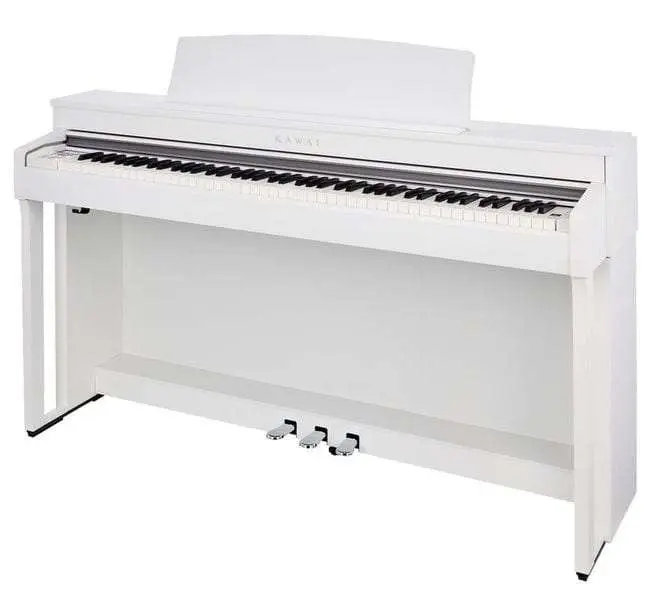 Choosing a White Digital Piano
The influence of color on the mood and worldview of a person has been noted not only by psychologists – this fact has also been reflected in art and pedagogical science, having received the designation of musical-color synesthesia.
The so-called "color hearing" was the subject of debate as early as the 19th century. It was then that such outstanding composers as A.A. Kenel, N.A. Rimsky-Korsakov presented their color tonal systems to the world. In the vision of A.N. Scriabin, the white color symbolized the brightest and most positive tonality of the circle of fourths and fifths, namely, C major. Perhaps that is why white instruments, even at the subconscious level, attract musicians more strongly and evoke associations with something sublime.
In addition, light-colored pianos, unlike dark ones, fit perfectly into the interior of a modern home. Light rooms look visually more spacious, which means they are more preferable among other options. A white digital piano will not only not spoil its appearance, but on the contrary will decorate almost any nursery or living room.
This article provides an overview of the main white electronic pianos on the market, their rating, which will help you make the right choice, even if the question is how to get a white digital piano as cheaply as possible.
Overview of white digital pianos
Among the rating according to customer reviews today, the following models of snow-white electronic pianos are in the lead.
Digital Piano Artesia A-61 White
An American-made instrument with a semi-weighted, responsive 61-key hammer action keyboard with three touch modes. The weight of the piano is 6.3 kg, which makes the instrument mobile for concert activities. The characteristics of the model allow both beginners and professionals to use the piano equally well.
Model parameters:
32-voice

polyphony

MIDI mode

two headphone outputs

sustain

pedal a

music stand

dimensions 1030 x 75 x 260 mm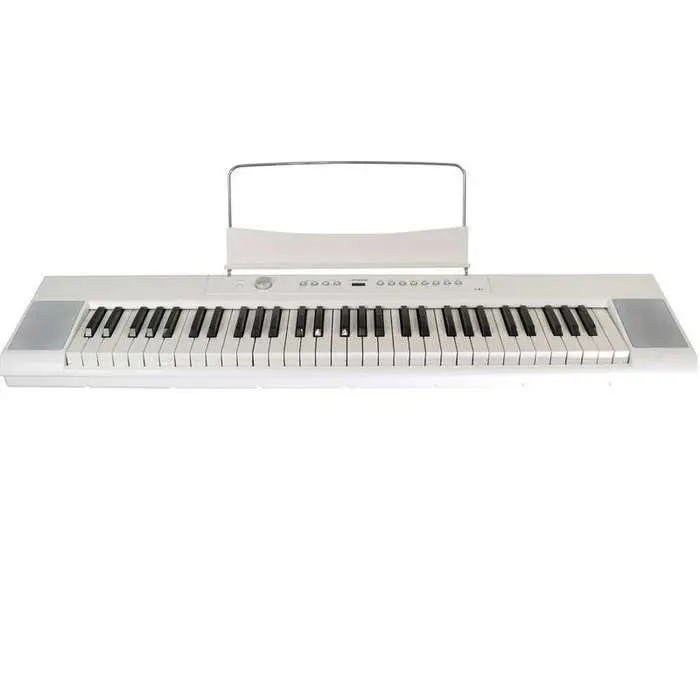 Digital Piano Yamaha NP-32WH
An instrument from the Piaggero NP series of the Japanese piano manufacturer Yamaha, which has a sophisticated design. Fully weighted keyboard with 76 keys, special mechanism with lower case weighting and makes the performance realistic and vivid. The model synthesizes the sound of a stage grand piano and an electronic piano. The lightness makes the tool ergonomic, allowing it to be transported by hand.
Model characteristics:
weight 5.7 kg

7 hours of battery life

memory 7000 notes

dimensions – 1.244mm x 105mm x 259mm

3 types of tuning (414.8Hz – 440.0Hz – 466.8Hz)

4 reverb modes

Graded soft touch system

10

Voices

with Dual Mode
Digital Piano Ringway RP-35
An ideal option in its price segment for teaching a child to play an instrument. The keyboard completely repeats the keys of an acoustic piano (88 pieces, sensitive to touch). Also with acoustics, this electronic version has in common the presence of three pedals, a stand, a music stand for notes and banquettes. At the same time, while maintaining the characteristics of a classical instrument, the model allows households to enjoy silence during the lessons of a little musician through headphones.
Model characteristics:
64-voice

polyphony

three pedals (Sustain, Sostenuto, Soft)

dimensions 1143 x 310 x 515 mm

weight 17.1 kg

LCD display

137

voices

, music recording function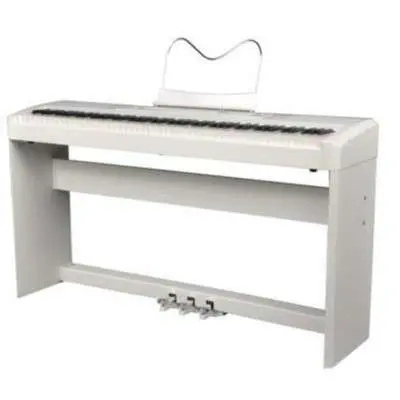 Digital Piano Becker BSP-102W
The model is a high-level stage digital piano from the German manufacturer Becker, one of the major world leaders in the manufacture of electronic pianos. A cutting-edge tool of monumental quality and rave reviews from real users. Suitable for both beginners who want to immediately get used to the jewelry sound, and professional performers. The dimensions of the model allow you to place the instrument comfortably without taking up extra space in the room.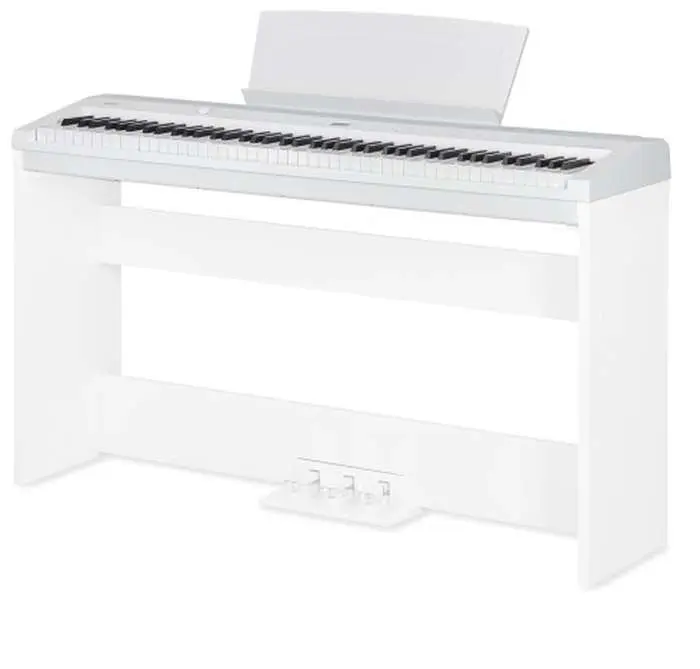 Model characteristics:
88 – key classical keyboard (7, 25 octaves)

128-voice

polyphony

Layer, Split, Twin Piano mode

Pitch and transpose function

8 reverb options

built-in metronome

demo versions of world classical works (Bayer, Czerny – plays, etudes, sonatinas)

USB, PEDAL IN, 3-PEDAL CONTROLLER

Weight – 18 kg

Dimensions 1315 x 337 x 130 mm
Other light colors
In addition to pure white models, the digital piano market also offers ivory colored instruments. These models are even more rare, so they will undoubtedly become an accent in the house and a true decoration of the interior in vintage style. Ivory electronic pianos are offered by the Japanese company Yamaha ( Yamaha YDP-S34WA Digital Piano and Yamaha CLP-735WA Digital Piano ).
Why buyers choose light instruments
The choice of white models is often explained by the unusualness of such an instrument, its aesthetic beauty and greater harmony in the interior. In addition, a snow-white piano is more likely to captivate a child to play music, instill in him a sense of beauty from interacting with such an interesting object.
Answers on questions
Are there white digital pianos for children?
Yes, such a model is represented, for example, by the Artesia brand – Children's digital piano Artesia FUN-1 WH . The tool is focused on a small student both in terms of its dimensions and quality characteristics.
What color piano is preferable to buy a child?
From the point of view of musical synesthesia, as well as research at the University of Berkeley, the color spectrum and sounds are inextricably linked. Considering that music forms direct associative connections in the child's brain, light-colored pianos will contribute to a more positive mood, successful learning, and, as a result, the formation of a diversified and harmonious personality.
Summary
The market of electronic pianos today allows you to find the most suitable instrument model for each performer in an unusual white color, pleasing to the eye and decorating the interior. The choice remains only for the necessary characteristics and taste preferences for the style of the piano.