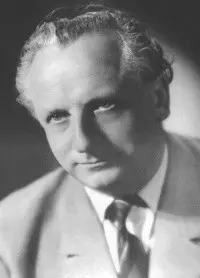 Арвид Кришевич Янсонс (Arvid Jansons) |
Arvid Jansons
Date of birth
23.10.1914
Date of death
21.11.1984
Profession
conductor
Country
the USSR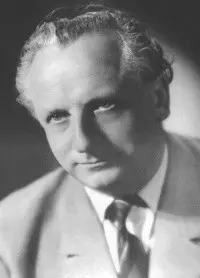 People's Artist of the USSR (1976), laureate of the Stalin Prize (1951), father of Maris Jansons. About the symphony orchestra of the Leningrad Philharmonic, the younger brother of the honored ensemble of the republic, V. Solovyov-Sedoy once wrote: "We, Soviet composers, this orchestra is especially dear. Perhaps not a single symphony group in the country pays as much attention to Soviet music as the so-called "second" philharmonic orchestra. His repertoire includes dozens of works by Soviet composers. A special friendship connects this orchestra with Leningrad composers. Most of their compositions were performed by this orchestra." High mark! And the team deserved it largely thanks to the tireless work of conductor Arvid Jansons.
Only in the early fifties Jansons came to Leningrad. And until then his creative life was connected with Latvia. He was born in Liepaja and began his musical education here, learning to play the violin. Even then he was attracted by conducting, but in a small town there were no necessary specialists, and the young musician independently studied the technique of orchestra management, instrumentation, and theory. By that time, he was able to get acquainted in practice with the skill of touring conductors, playing in the orchestra of the opera house under the direction of L. Blech, E. Kleiber, G. Abendroth. And in the season of 1939-1940, the young musician himself stood behind the console for the first time. However, systematic conductor work began only in 1944, after Jansons perfected his violin at the Riga Conservatory.
In 1946, Jagasons won the second prize at the All-Union Conductors Review and began a wide concert activity. It was symphonic conducting that turned out to be his real vocation. In 1952 he became the conductor of the Leningrad Philharmonic, and since 1962 he has been the head of its second orchestra. The artist constantly performs with the honored team of the republic, as well as with the largest Soviet and foreign orchestras. He often represents our art abroad; Jansons was especially fond of listeners in Japan, where he performed repeatedly.
Jansons is justly called a propagandist of Soviet music. Many novelties were first performed under his direction – works by A. Petrov, G. Ustvolskaya, M. Zarin, B. Klyuzner, B. Arapov, A. Chernov, S. Slonimsky and others. But of course, this does not exhaust the wide repertoire of the artist. Although he equally often turns to music of a wide variety of directions, the works of a romantic plan are closest to his impulsive nature. "If we resort to analogies," writes musicologist V. Bogdanov-Berezovsky, "I would say that Jansons' "conducting voice" is a tenor. And, moreover, a lyrical, but courageous timbre and poetic, but strong-willed phrasing. He is most successful in plays of great emotional intensity and poetic, contemplative sketches.
L. Grigoriev, J. Platek, 1969