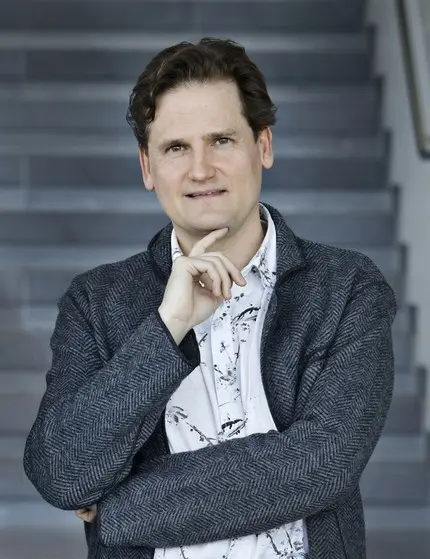 Olli Mustonen
Date of birth
07.06.1967
Profession
composer, conductor, pianist
Country
Finland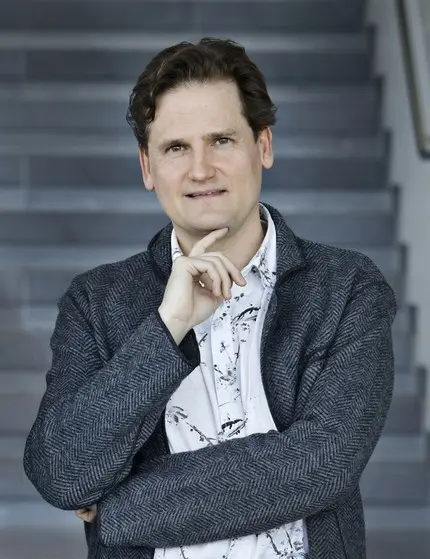 Olli Mustonen is a universal musician of our time: composer, pianist, conductor. Born in 1967 in Helsinki. At the age of 5, he began taking piano and harpsichord lessons, as well as composition. He studied with Ralph Gotoni, then continued his piano lessons with Eero Heinonen and composition with Einoyuhani Rautavaara. In 1984 he became a laureate of the competition for young performers of academic music "Eurovision" in Geneva.
As a soloist he has performed with the orchestras of Berlin, Munich, New York, Prague, Chicago, Cleveland, Atlanta, Melbourne, the Royal Concertgebouw Orchestra, the BBC Scottish Symphony Orchestra, the Australian Chamber Orchestra and such conductors as Vladimir Ashkenazy, Daniel Barenboim, Herbert Bloomstedt, Martin Brabbins, Pierre Boulez, Myung Wun Chung, Charles Duthoit, Christophe Eschenbach, Nikolaus Arnoncourt, Kurt Masur, Kent Nagano, Esa-Pekka Salonen, Yukka-Pekka Saraste, Paavo Järvi, Yuri Bashmet and others. Conducted most orchestras in Finland, the German Philharmonic Chamber Orchestra in Bremen, the Weimar Staatskapelle, the West German Radio Orchestras in Cologne, the Salzburg Camerata, the Northern Symphony (Great Britain), the Scottish Chamber Orchestra, the Estonian National Symphony Orchestra, the Tchaikovsky Symphony Orchestra, the Japanese NHK and others. Founder of the Helsinki Festival Orchestra.
For many years there has been a creative alliance between Mustonen and the Mariinsky Theater Orchestra and Valery Gergiev. In 2011, the pianist took part in the closing concert of the 70th Moscow Easter Festival. Mustonen also collaborates with Rodion Shchedrin, who dedicated the Fifth Piano Concerto to the pianist and invited him to perform this work at his 75th, 80th and 2013th anniversary concerts. In August 4, Mustonen played Shchedrin's Concerto No. XNUMX at the Baltic Sea Festival in Stockholm with the Mariinsky Theater Orchestra. Under the baton of Mustonen, a disc of Shchedrin's compositions was recorded – a cello concerto Sotto voce and a suite from the ballet The Seagull.
Mustonen's compositions include two symphonies and other orchestral works, concertos for piano and for three violins and orchestra, numerous chamber works, and a vocal cycle based on poems by Eino Leino. He also owns orchestrations and transcriptions of works by Bach, Haydn, Mozart, Beethoven, Stravinsky, Prokofiev. In 2012, Mustonen conducted the premiere of his First Tuuri Symphony for baritone and orchestra commissioned by the Tampere Philharmonic Orchestra. The second symphony, Johannes Angelos, was commissioned by the Helsinki Philharmonic Orchestra and was first performed under the baton of the author in 2014.
Mustonen's recordings include preludes by Shostakovich and Alkan (Edison Award and Gramophone Magazine's Best Instrumental Recording Award). In 2002, the musician signed an exclusive contract with the Ondine label, which recorded Preludes and Fugues by Bach and Shostakovich, works by Sibelius and Prokofiev, Rachmaninov's Sonata No. 1 and Tchaikovsky's The Four Seasons, an album of Beethoven's piano concertos with the Tapiola Sinfonietta orchestra. Recent recordings include Respighi's Mixolydian Concerto with the Finnish Radio Orchestra conducted by Sakari Oramo and a disc of compositions by Scriabin. In 2014, Mustonen recorded his Sonata for Cello and Piano as a duet with Steven Isserlis.
In 2015, Mustonen's Piano Quintet premiered at the Spannungen Festival in Heimbach, Germany. Quintet premieres soon took place in Stockholm and London. On November 15, 2015, on the opening day of Valery Gergiev's 360 Degrees Festival in Munich, Mustonen took part in a unique marathon — a performance of all Prokofiev's piano concertos with the Munich Philharmonic Orchestra conducted by maestro Gergiev, playing Concerto No. 5. Works on recording a full cycle of Prokofiev's piano concertos. Awarded with Finland's highest state award for artists – the Pro Finlandia medal.