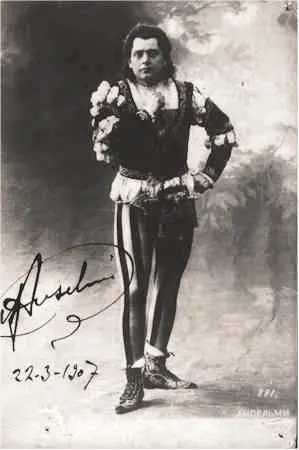 Giuseppe Anselmi
Date of birth
16.11.1876
Date of death
27.05.1929
Profession
singer
Voice type
tenor
Country
Italy
Italian singer (tenor). He began his artistic activity as a violinist at the age of 13, at the same time he was fond of vocal art. Improved in singing under the guidance of L. Mancinelli.
He made his debut in 1896 in Athens as Turiddu (Mascagni's Rural Honor). The performance of the part of the Duke ("Rigoletto") at the Milan theater "La Scala" (1904) put forward Anselmi among the outstanding representatives of the Italian bel canto. Toured in England, Russia (for the first time in 1904), Spain, Portugal, Argentina.
Anselmi's voice conquered with lyrical warmth, beauty of timbre, sincerity; his performance was distinguished by freedom and completeness of vocalization. Many operas by French composers ("Werther" and "Manon" by Massenet, "Romeo and Juliet" by Gounod, etc.) owe their popularity in Italy to the art of Anselmi. Possessing a lyric tenor, Anselmi often turned to dramatic roles (Jose, Cavaradossi), which led him to a premature loss of his voice.
He wrote a symphonic poem for orchestra and several piano pieces.
V. Timokhin