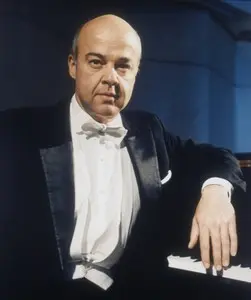 Alexander Toradze
Date of birth
30.05.1952
Profession
pianist
Country
USSR, USA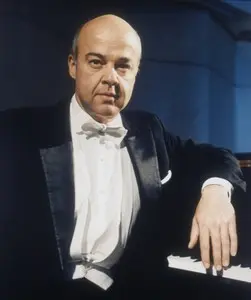 Alexander Toradze is rightfully considered one of the most virtuoso performers playing in the romantic tradition. He enriched the creative heritage of the greatest Russian pianists, bringing to it his non-standard interpretations, poetry, deep lyricism and vivid emotional intensity.
Accompanied by Valery Gergiev and the Mariinsky Theater Orchestra, Alexander Toradze recorded all five of Prokofiev's piano concertos for the Philips studio, and critics called this recording a standard one, and International Piano Quarterly magazine recognized the recording of Prokofiev's Third Concerto performed by Toradze as "the best recording in history" (out of more seventy existing). In addition, the musical poem Prometheus (Poem of Fire) by Scriabin, accompanied by the Mariinsky Theater Orchestra conducted by Valery Gergiev, and recordings with works by Mussorgsky, Stravinsky, Ravel and Prokofiev, should be noted.
Piano music in the online store OZON.ru
The pianist regularly performs with the world's leading orchestras under the baton of the most celebrated conductors of our time: Valery Gergiev, Esa-Pekka Salonen, Jukki-Pekka Saraste, Mikko Frank, Paavo and Christian Järvi, Vladimir Jurowski and Gianandrea Noseda.
In addition, Alexander Toradze regularly participates in numerous summer music festivals, including the Salzburg Festival, the Stars of the White Nights festival in St. Petersburg, the BBC Proms in London, Ravinia in Chicago, and also performs at festivals in Edinburgh, Rotterdam, Mikkeli (Finland), Hollywood Bowl and Saratoga.
More recently Toradze has performed with the BBC Philharmonic Orchestra and the Swedish Radio Orchestra conducted by Gianandrea Noseda, the London Symphony Orchestra and the Mariinsky Theater Symphony Orchestra conducted by Valery Gergiev, the Cincinnati Symphony Orchestra conducted by Paavo Järvi and the London Philharmonic Orchestra conducted by Vladimir Yurovsky. and Yukki-Pekki Saraste. In addition, he has given concerts with the Orchester National de France, the Gulbenkian Foundation Orchestra, the Czech and Dresden Philharmonic Orchestras.
In March 2010, Alexander Toradze made a tour of the United States, accompanied by the London Philharmonic Orchestra conducted by Vladimir Yurovsky, during which he performed at New York's Avery Fisher Hall. The musician's creative plans include participation in the opening concert of the fiftieth anniversary music festival in Stresa (Italy) conducted by Gianandrea Noseda and recording both of Shostakovich's piano concertos accompanied by the Frankfurt Radio Symphony Orchestra conducted by Paavo Järvi.
Alexander Toradze was born in Tbilisi, graduated from the Moscow Conservatory. P.I. Tchaikovsky and soon became a teacher at this university. In 1983 he moved to the USA, and in 1991 he became a tenured professor at the University of South Bend, Indiana, where he managed to create a unique and unique teaching system. Musicians from different countries from the Toradze Piano Studio successfully tour around the world.
Source: Mariinsky Theater website