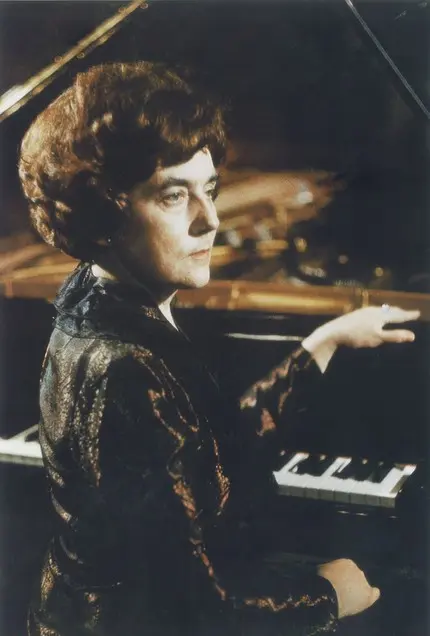 Margarita Alekseevna Fedorova |
Margarita Fedorova
Date of birth
04.11.1927
Date of death
14.08.2016
Profession
pianist, teacher
Country
Russia, USSR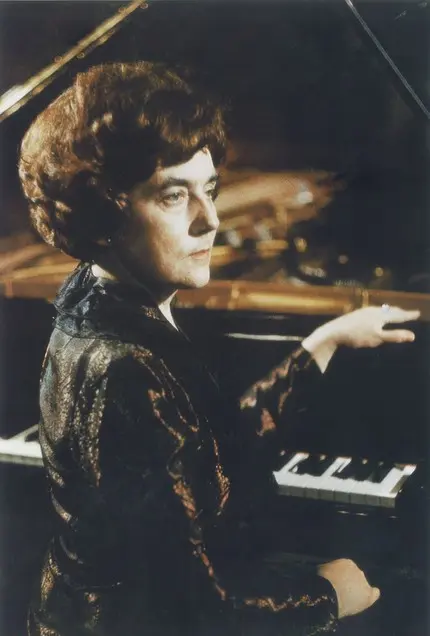 In 1972, the 100th anniversary of the birth of Scriabin was celebrated. Among the many artistic events dedicated to this date, the attention of music lovers was attracted by the cycle of Scriabin evenings in the Small Hall of the Moscow Conservatory. In six intense programs, Margarita Fedorova performed all (!) compositions of the remarkable Russian composer. Works that rarely appear in the concert repertoire were also performed here – more than 200 titles in total! In connection with this cycle, I.F. Belza wrote in the Pravda newspaper: "A truly phenomenal memory, an impeccable, comprehensively developed technique and a subtle artistic flair helped her to comprehend and convey the nobility, emotional richness of Scriabin's work, and at the same time the complexity of the search and originality, so distinguishing it in the history of musical art. The performance of Margarita Fedorova testifies not only to high artistry, but also to deep intellectualism, which allowed the pianist to reveal the versatility of a brilliant musician…". Margarita Fedorova demonstrates all the qualities noted by famous Soviet musicologists in other cycles.
The artist also pays great attention to Bach's work: her repertoire includes all the composer's clavier concertos, and she also performs his works on the harpsichord. "I became interested in the harpsichord," says Fedorova, "a long time ago, when I participated in the Bach competition and festival in Leipzig. It seemed interesting and more natural sounding of great works in the original. I began to study a new instrument for myself, and since I mastered it, I play the music of J.S. Bach only on the harpsichord. Already the first evenings of the actress in this new capacity evoked favorable responses. So, A. Maykapar noted the scale of her playing, the clarity of the performing plan, the clear drawing of polyphonic lines. Beethoven is no less widely represented in her programs – all the sonatas and all the piano concertos! And at the same time, she brings to the attention of the listeners rarely performed Beethoven works, for example, Ten Variations on the theme of the duet "La stessa, la stessissima" from Salieri's opera "Falstaff". The desire for the thematic construction of programs ("Piano Fantasies", "Variations"), for a monographic display of the work of classical composers ("Schubert", "Chopin", "Prokofiev", "Liszt", "Schumann") and Soviet authors is generally one of the distinctive features of the artistic appearance of Fedorova. Thus, the cycle of three concerts "Russian and Soviet Piano Sonata", which included major works by P. Tchaikovsky, A. Scriabin, N. Medtner, N. Myaskovsky, S. Prokofiev, Academy of Sciences, became a notable event. Alexandrov, D. Shostakovich, A. Khachaturian, D. Kabalevsky, G. Galynin, N. Peiko, A. Laputin, E. Golubev, A. Babadzhanyan, A. Nemtin, K. Volkov.
Interest in Soviet musical creativity has always been characteristic of the pianist. To the mentioned names one can add such names of Soviet composers as G. Sviridov, O. Taktakishvili, Ya. Ivanov, and others who often appear in her programs.
However, Scriabin's work is especially close to the pianist. She became interested in his music even at the time when she was a student at the Moscow Conservatory in the class of G. G. Neuhaus (she graduated in 1951 and studied with him in graduate school until 1955). However, at different stages of her creative path, Fedorova, as it were, switches her attention to one or another instrumental sphere. In this regard, its competitive successes are also indicative. At the Bach competition in Leipzig (1950, second prize), she demonstrated an excellent understanding of the polyphonic style. And a year later she became a laureate of the Smetana Competition in Prague (second prize) and since then a significant share in her concert programs belongs to the music of Slavic composers. In addition to many works by Chopin, the pianist's repertoire includes pieces by Smetana, Oginsky, F. Lessel, K. Shimanovsky, M. Shimanovskaya, she constantly plays works by Russian composers, primarily Tchaikovsky and Rachmaninoff. No wonder L. M. Zhivov noted in one of his reviews that "it is the compositions that are closely connected with the traditions of Russian piano literature that receive the most lively, emotional embodiment in Fedorova's interpretation."
Grigoriev L., Platek Ya., 1990