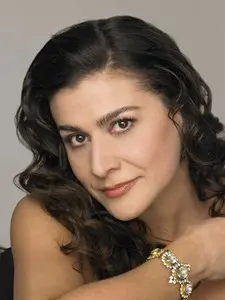 Cecilia Bartoli (Cecilia Bartoli) |
Cecilia Bartoli
Date of birth
04.06.1966
Profession
singer
Voice type
mezzo-soprano
Country
Italy
Author
Irina Sorokina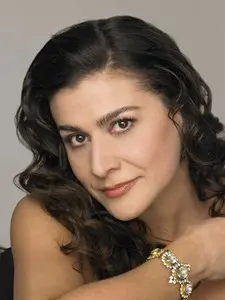 We can safely say that the star of the young Italian singer Cecilia Bartoli shines brightest on the operatic horizon. CDs with recordings of her voice have sold around the world in an incredible amount of four million copies. A disc with recordings of unknown arias by Vivaldi was sold in the amount of three hundred thousand copies. The singer has won several prestigious awards: American Grammy, German Schallplattenprise, French Diapason. Her portraits appeared on the covers of Newsweek and Grammophone magazines.
Cecilia Bartoli is quite young for a star of this rank. She was born in Rome on June 4, 1966 in a family of musicians. Her father, a tenor, abandoned his solo career and worked for many years in the choir of the Rome Opera, forced to support his family. Her mother, Silvana Bazzoni, who performed under her maiden name, was also a singer. She became the first and only teacher of her daughter and her vocal "coach". As a nine-year-old girl, Cecilia acted as a shepherdess in Puccini's Tosca, on the stage of the same native Rome Opera. True, later, at the age of sixteen or seventeen, the future star was much more interested in flamenco than vocals. It was at the age of seventeen that she began to seriously study music at the Roman Academy of Santa Cecilia. Her attention at first concentrated on the trombone, and only then did she turn to what she did best – singing. Just two years later, she appeared on television to perform with Katya Ricciarelli the famous barcarolle from Offenbach's Tales of Hoffmann, and with Leo Nucci the duet of Rosina and Figaro from The Barber of Seville.
It was 1986, the television competition for young opera singers Fantastico. After her performances, which made a big impression, a rumor was circulating behind the scenes that the first place was for her. In the end, the victory went to a certain tenor Scaltriti from Modena. Cecilia was very upset. But fate itself helped her: at that moment, the great conductor Riccardo Muti was at the TV. He invited her to audition at La Scala, but considered that a debut on the stage of the legendary Milan theater would be too risky for the young singer. They met again in 1992 at a production of Mozart's Don Giovanni, in which Cecilia sang the part of Zerlina.
After the elusive victory in Fantastico, Cecilia participated in France in a program dedicated to Callas on Antenne 2. This time Herbert von Karajan was on TV. She remembered the audition at the Festspielhaus in Salzburg for the rest of her life. The hall was dim, Karayan spoke into the microphone, she did not see him. It seemed to her that it was the voice of God. After listening to arias from operas by Mozart and Rossini, Karajan announced his desire to engage her in Bach's B-minor Mass.
In addition to Karajan, in her fantastic career (it took her a few years to conquer the most prestigious halls and theaters in the world), a significant role was played by the conductor Daniel Barenboim, Ray Minshall, responsible for the artists and repertoire of the major record label Decca, and Christopher Raeburn, senior producer of the company . In July 1990, Cecilia Bartoli made her American debut at the Mozart Festival in New York. A series of concerts on campuses followed, each time with increasing success. The following year, 1991, Cecilia made her debut at the Opéra Bastille in Paris as Cherubino in Le nozze di Figaro and at La Scala as Isolier in Rossini's Le Comte Ory. They were followed by Dorabella in "So Do Everyone" at the Florentine Musical May festival and Rosina in the "Barber of Seville" in Barcelona. In the 1991-92 season, Cecilia gave concerts in Montreal, Philadelphia, the Barbican Center in London and performed at the Haydn Festival at the Metropolitan Museum of Art in New York, and also "mastered" such new countries for her as Switzerland and Austria . In the theatre, she concentrated mainly on the Mozart repertoire, adding to Cherubino and Dorabella Zerlina in Don Giovanni and Despina in Everyone Does It. Very soon, the second author to whom she devoted maximum time and attention was Rossini. She sang Rosina in Rome, Zurich, Barcelona, ​​Lyon, Hamburg, Houston (this was her American stage debut) and Dallas and Cinderella in Bologna, Zurich and Houston. The Houston "Cinderella" was recorded on video. By the age of thirty, Cecilia Bartoli performed at La Scala, the An der Wien Theater in Vienna, at the Salzburg Festival, conquered the most prestigious halls in America. On March 2, 1996, she made her much anticipated debut at the Metropolitan Opera as Despina and surrounded by such stars as Carol Vaness, Suzanne Mentzer and Thomas Allen.
The success of Cecilia Bartoli can be considered phenomenal. Today it is the highest paid singer in the world. Meanwhile, along with admiration for her art, there are voices claiming that skillfully prepared advertising plays a huge role in Cecilia's dizzying career.
Cecilia Bartoli, as is easy to understand from her "track record", is not a prophet in her own country. Indeed, she rarely appears at home. The singer says that in Italy it is almost impossible to propose unusual names, since "La Boheme" and "Tosca" are always in a privileged position. Indeed, in the homeland of Verdi and Puccini, the largest place on the posters is occupied by the so-called "great repertoire", that is, the most popular and beloved operas by the general public. And Cecilia loves Italian baroque music, the operas of the young Mozart. Their appearance on the poster is not able to attract the Italian audience (this is proved by the experience of the Spring Festival in Verona, which presented operas by composers of the Eighteenth century: even the parterre was not filled). Bartoli's repertoire is too elitist.
One can ask the question: when will Cecilia Bartoli, who classifies herself as a mezzo-soprano, bring such a "sacred" role for the owners of this voice as Carmen to the public? Answer: perhaps never. Cecilia states that this opera is one of her favorites, but that it is staged in the wrong places. In her opinion, "Carmen" needs a small theater, an intimate atmosphere, because this opera belongs to the opera comique genre, and its orchestration is very refined.
Cecilia Bartoli has a phenomenal technique. To be convinced of this, it is enough to listen to the aria from Vivaldi's opera "Griselda", captured on the CD Live in Italy, recorded during the singer's concert at the Teatro Olimpico in Vicenza. This aria requires an absolutely unthinkable, almost fantastic virtuosity, and Bartoli is perhaps the only singer in the world who can perform so many notes without respite.
However, the fact that she classified herself as a mezzo-soprano raises serious doubts among the critic. On the same disc, Bartoli sings an aria from Vivaldi's opera Zelmira, where he gives out an ultra-high E-flat, clear and confident, which would do honor to any dramatic coloratura soprano or coloratura soprano. This note is outside the range of a "normal" mezzo-soprano. One thing is clear: Bartoli is not a contralto. Most likely, this is a soprano with a very wide range – two and a half octaves and with the presence of low notes. An indirect confirmation of the true nature of Cecilia's voice can be her "forays" into the area of ​​Mozart's soprano repertoire – Zerlin, Despina, Fiordiligi.
It seems that there is a smart calculation behind self-determination as a mezzo-soprano. Sopranos are born much more often, and in the opera world the competition between them is much fiercer than among mezzo-sopranos. Mezzo-soprano or world-class contralto can be counted on the fingers. By defining herself as a mezzo-soprano and focusing on the Baroque, Mozart and Rossini repertoire, Cecilia has created a comfortable and magnificent niche for herself that is very difficult to attack.
All this brought Cecilia to the attention of major record companies, including Decca, Teldec and Philips. The company Decca takes special care of the singer. Currently, Cecilia Bartoli's discography includes more than 20 CDs. She has recorded old arias, arias by Mozart and Rossini, Rossini's Stabat Mater, chamber works by Italian and French composers, complete operas. Now a new disc called Sacrificio (Sacrifice) is on sale – arias from the repertoire of the once idolized castrati.
But it is necessary to tell the whole truth: Bartoli's voice is the so-called "small" voice. She makes a far more compelling impression on CDs and in the concert hall than on the opera stage. Similarly, her recordings of full operas are inferior to recordings of solo programs. The strongest side of Bartoli's art is the moment of interpretation. She is always very attentive to what she does and does it with maximum efficiency. This favorably distinguishes her from the background of many modern singers, perhaps with voices no less beautiful, but stronger than those of Bartoli, but not able to conquer the heights of expressiveness. Cecilia's repertoire testifies to her penetrating mind: she is apparently well aware of the limits of what nature has given her and chooses works that require subtlety and virtuosity, rather than the strength of her voice and fiery temperament. In such roles as Amneris or Delilah, she would never have achieved brilliant results. We made sure that she does not guarantee her appearance in the role of Carmen, because she would only dare to sing this part in a small hall, and this is not very realistic.
It seems that a skillfully conducted advertising campaign played a significant role in creating the ideal image of the Mediterranean beauty. In fact, Cecilia is small and plump, and her face is not distinguished by outstanding beauty. Fans claim that she looks much taller on stage or on TV, and give enthusiastic praise to her lush dark hair and unusually expressive eyes. Here is how one of the many articles in the New York Times describes her: "This is a very lively person; thinking a lot about her work, but never being pompous. She is curious and always ready to laugh. In the twentieth century, she seems at home, but it doesn't take much imagination to imagine her in the glittering Paris of the 1860s: her feminine figure, creamy shoulders, a wave of falling dark hair make you think of the flickering of candles and the charm of seductresses of bygone times.
For a long time, Cecilia lived with her family in Rome, but a few years ago she officially "registered" in Monte Carlo (like many VIPs who chose the capital of the Principality of Monaco due to too strong tax pressure in their homeland). A dog named Figaro lives with her. When Cecilia is asked about her career, she replies: "Moments of beauty and happiness are what I want to give people. The Almighty gave me the opportunity to do this thanks to my instrument. Heading to the theater, I want us to leave the familiar world behind and rush into the new world.