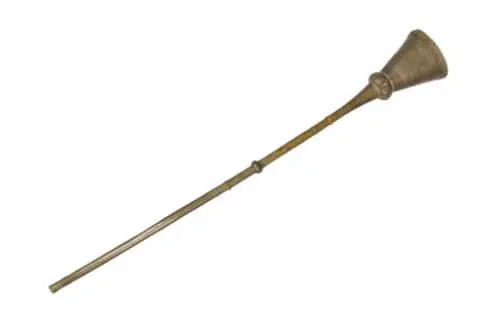 Karnay: what is it, the structure of the instrument, history, sound, use
Karnay is a folk copper or brass wind musical instrument common in Tajikistan, Uzbekistan, Iran. From the Uzbek and Tajik languages, its name is translated as nay (wooden transverse flute) for the deaf.
Tool structure
Karnay consists of a copper or brass pipe 2-3 meters long without holes and valves with a conical extension at the end in the shape of a bell. A shallow mouthpiece is inserted into the pipe from the narrow side.
Due to the fact that the karnay consists of three parts, it is easy to transport.
There are straight and curved karnai. Direct are used more often.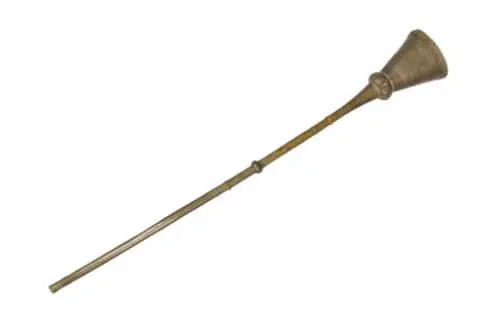 Sound extraction
Extracting sounds, the carnicker presses the mouthpiece and blows. The musician holds the trumpet with both hands, turns to the sides, sending musical signals. To hold, blow through the tool, you need remarkable strength.
The karnay has a powerful, loud, deep sound, similar in timbre to a trombone, a natural scale. The range is an octave, but with the master it becomes a real work of art. The sound is like the roar of wild animals.
He usually does not play solo, but performs music together with a surnay (a smaller wind instrument) and a nagor (ceramic timpani).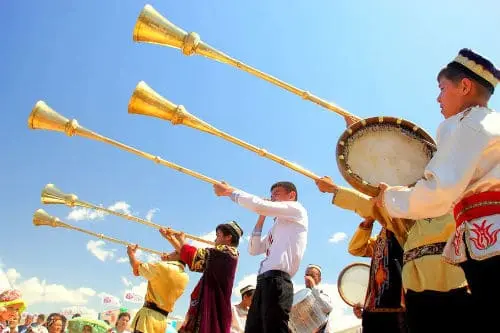 History
This is one of the oldest instruments. He is 3000 years old. This pipe followed the armies of Tamerlane and Genghis Khan to war. In ancient times, karnai was used:
for communication, as a signaling tool;
on parade trips of military leaders;
to inspire warriors;
at the arrival of heralds;
to announce the beginning of the war, fire;
in ensembles of wandering musicians;
to mark the beginning of mass festivities, performances by tightrope walkers, puppeteers' performances.
And now karnai is loved by the people, not a single important event can do without it. He is heard on various holidays:
parades, mass celebrations;
weddings;
circus performances;
celebrations on the occasion of the birth of a child;
at the opening and closing of sports competitions.
Karnai serves as an example of how carefully the eastern peoples preserve their traditions.
Знакомство с музыкальным инструментом карнай