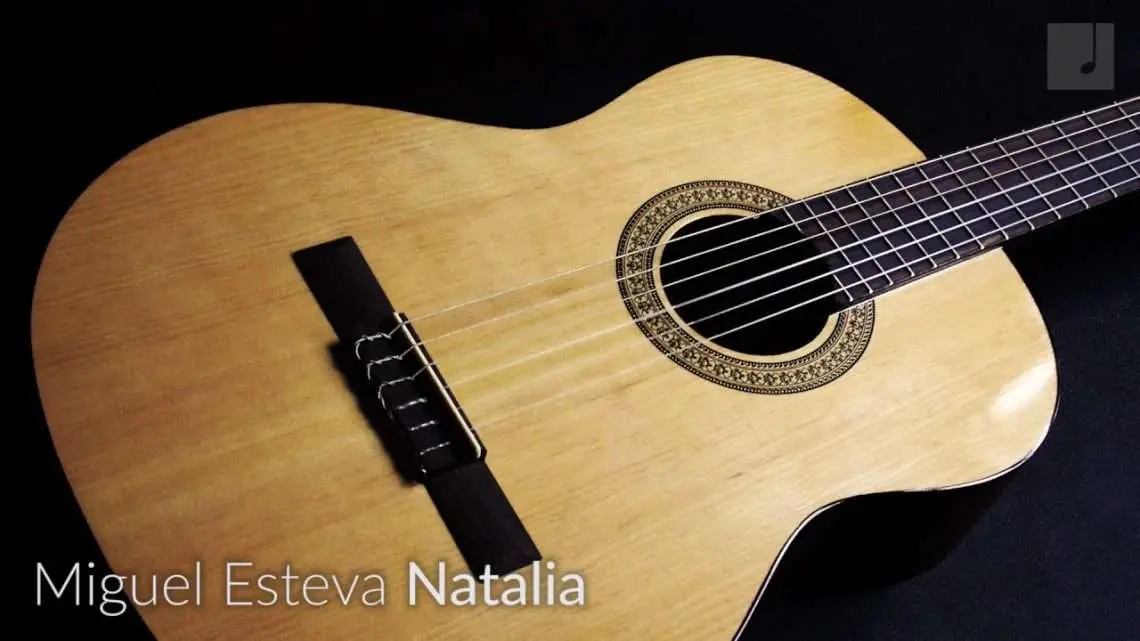 Yamaha C30, Epiphone PRO1, Miguel Esteva Natalia test porównawczy
In this video, three budget classical guitars hit the test workshop: Miguel Esteva Natalia, Yamaha C 30 M and Epiphone PRO 1 Classic 2.00 AN.
The first one, Natalia, is made mostly of mahogany (bottom, sides, neck). Its top is made of high-gloss lacquered spruce and the fingerboard is made of hardwood. The guitar is distinguished by its open, warm sound and – which immediately positively surprised us – the high quality of workmanship. There is no question of any strings buzzing on the frets of the entire length of the neck, the intonation is set to a point. Miguel Esteva employees definitely focused on the ease of playing by setting the strings low, which will definitely facilitate learning for beginner guitarists.
Miguel Esteva Natalia, source: Muzyczny.pl
Yamaha budget guitars are one of the most popular instruments among musicians who are just starting their musical journey. It is also no exception that the C 30 M model is characterized by good workmanship – here we have an interesting looking, matte spruce top attached to the sides and bottom of the meranti. The mahogany neck is equipped with a rosewood fingerboard. As in the case of Natalia – we deal here with a deep and very clear sound, which, combined with the moderate action of the strings, definitely makes an instrument worth attention.
Yamaha C30M, source: Muzyczny.pl
The last of them, the Epiphone PRO 1 Classic 2.00 AN, immediately out of the box surprises with a "solid" – for a classic guitar, weight. The instrument lies securely in the hand and does not "run away" in either direction. It was made mainly of mahogany (bottom, sides, neck – with a rosewood fingerboard), and its definitely visible from a distance – because the top is finished to a very high gloss, made of cedar. The guitar is equipped with a key to adjust the curvature of the neck, which is a very good and most importantly – a useful convenience that you will not find in this price range. As for the sound, we have a very characteristic sound here that is hard to describe – you just have to listen to it 🙂
The action of the strings again – factory set to moderate, suitable for the game, but it cannot be constantly assessed, because the manufacturer gives us the ability to adjust it to our own needs.
Epiphone PRO1, source: Muzyczny.pl
To sum up, in each of the three cases we deal here with instruments that are definitely worth paying attention to when choosing "the former". It is worth trying to do it, because an incorrectly made instrument can only discourage and effectively cause the guitar to land in the corner – and not in the hands of the future one? guitarist. Our attention was definitely drawn to the instrument of the little-known company Miguel Esteva – Natalia, which, with its quality of workmanship and ease of playing, made us unable to tear ourselves away from it and believe that it costs about … PLN 499 …
Yamaha C30, Miguel Esteva Natalia, Epiphone PRO1- test porównawczy gitar klasycznych