Which percussion cymbals should I choose?
See Percussion Cymbals in Muzyczny.pl

Choosing the right percussion cymbals, commonly known as cymbals, can be a real problem, not only for a beginner drummer, but also for those who have been playing for years. We have many companies producing percussion cymbals on the market. Each of them has a few models dedicated to a specific group of drummers in its range.
We can complete the sheets individually as well as purchase the entire set of a given model. Some drummers mix not only models but also brands, thus looking for a unique combination and sound. It must be remembered that the sheets must be compatible with each other, so choosing the right ones is not so easy, contrary to appearances. For this reason, beginner drummers are often advised to buy the entire set of a given model, the so-called sets that are made of the same material and the same technology. For the production of sheets, brass, bronze or new silver are most often used. Some series use thin layers of gold.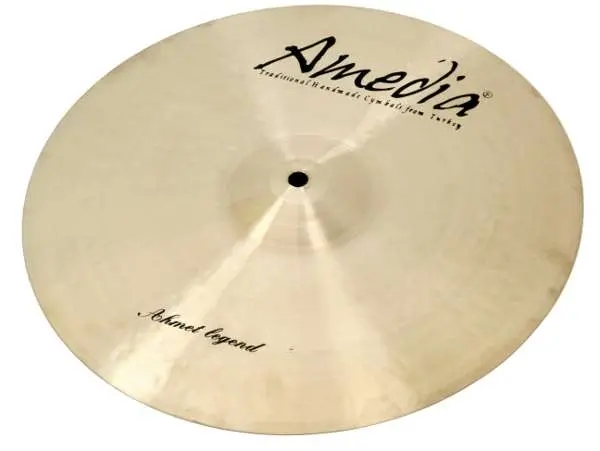 Amedia Ahmet Legend made of bronze alloy B20, source: Muzyczny.pl
Individual producers keep the exact recipe of the alloy from which a given cymbal is made as secret as possible. This is why sheets made of the same alloy by different https://muzyczny.pl/435_informacja_o_producencie_Zildjian.html sound completely different. The price of a given sheet is influenced not only by the material from which it was made, but most of all by the technology it was made of. Hand-made sheets are definitely more valuable and much more expensive cymbals than those made in the form of strip production. Of course, line production dominated most of the market and now both low-budget and professional series are machine-produced.
Hand-forged sheets, in turn, have their own unique and unique character because there are no two identical sounding cymbals. The prices of such hand-forged cymbals reach several thousand zlotys, where in the case of those who rolled off the tape, we can buy the entire set for just a few hundred zlotys. The most budgetary and at the same time most often chosen by beginner drummers are those made of brass. The advantage of these sheets is undoubtedly their high strength, which is why they are perfect for exercise. Plates made of bronze are more prone to mechanical damage, therefore the correct playing technique is very important to avoid cracking.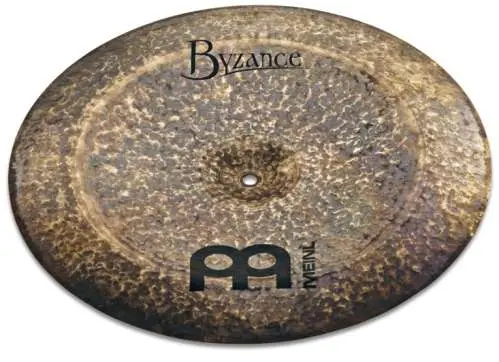 Hand-forged Meinl Byzance, source: Muzyczny.pl
Percussion cymbals can be divided into several categories, and the basic ones include: division due to their structure and size in inches: splash (6″-12″) ; hi-six (10″-15″) ; crash (12″-22″) ; (smiles (18″-30″) ; China (8″-24″) oraz grubość: paperthin, thin, medium thin, medium, medium heavy, heavy.
At the beginning of our adventure with drums, we only need a hi-hat and a ride, so if we have a limited budget, or we do not want to buy the entire budget set, just e.g. something from a higher shelf, we can start our completing with these two, or basically three cymbals, because there are two for the hi-hat. Later, we can gradually buy a crash, then a splash, and usually at the end we buy china.
The most famous producers of percussion cymbals in the world include: Paiste, Zildjian, Sabian, Istanbul Agop, Istanbul Mehmet. Each of these brands offers a dozen or so series of both budget and those intended for experienced drummers, the price of which is equal to the price of a good set of drums. For example: Paiste for beginners has a series of 101, the set of which we can buy for a few hundred zlotys.
On the other hand, for professional drummers, it has a very well-known cult 2002 series, which is great for rock playing, although it is also used with great popularity in other genres. Zildjian for professionals has the A Custom series and the K series often used by both rockers and jazzmen, while for drummers with a smaller wallet, it offers the ZBT series. The cymbals of the German manufacturer Meinl are quite popular among low-budget sets, which are a good proposition for beginner drummers looking for good-sounding and durable cymbals for practice.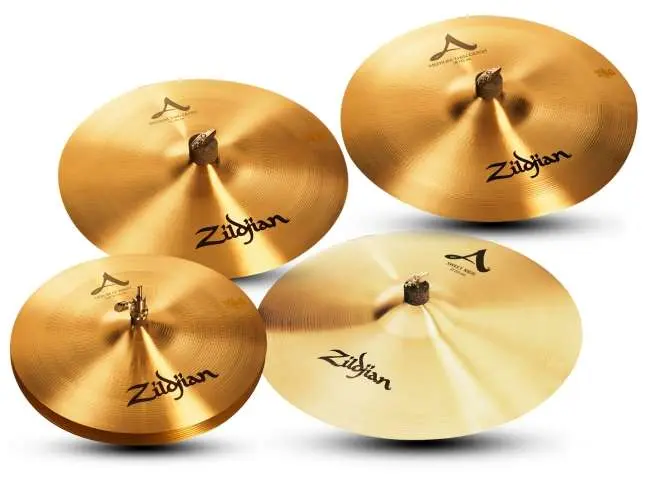 Zildjian A Custom – set, source: Muzyczny.pl
When choosing cymbals, we must remember that it is a very important instrument in a percussion set. They give most of the treble when playing the drums, so if we want our kit to sound good, they have to form a common symmetry with the drums. A good-sounding cymbal is 80% of a good sound of the whole set.