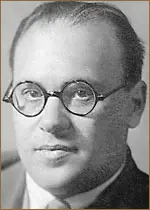 Victor Alexandrovich Oransky |
Viktor Oransky
Date of birth
1899
Date of death
1953
Profession
composer
Country
the USSR
Composer Viktor Alexandrovich Oransky received his musical education at the Moscow Conservatory in the class of K. Igumnov. For several years he was engaged mainly in pedagogical and accompanist activities. In the 20s and 30s he was in charge of the musical part of drama theaters and wrote music for performances.
Work at the Choreographic School of the Bolshoi Theater of the USSR gave Oransky the opportunity to study in detail dance music and the specifics of the musical dramaturgy of ballet.
In the first ballet "Footballers", written in 1930, Oransky paid tribute to the passion for the eccentric theatrical form; in the ballets The Three Fat Men (1939) and The Merry Wives of Windsor (1942) he turned to the traditional forms of classical ballet and created music endowed with witty characteristics, lively and convenient for stage implementation.
L. Entelic