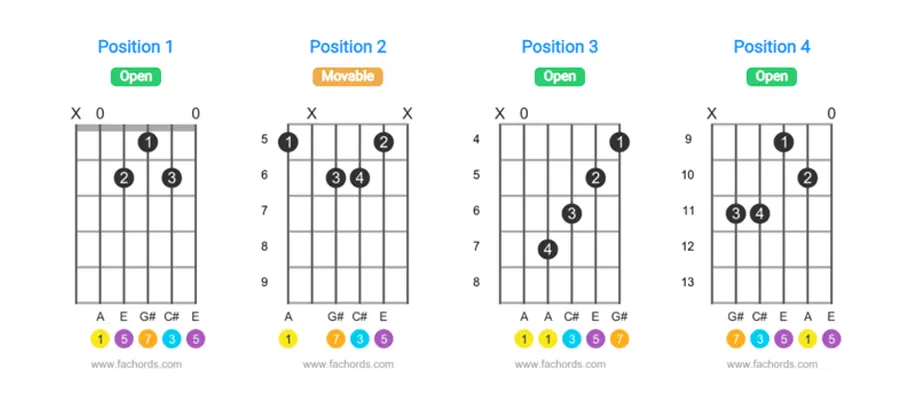 Types and schemes of fingering on the guitar
In this article, we will analyze what searches are, what types of searches are (eight, four, and others) and see the search schemes. I will also give a list of songs with strumming and chords 🙂
Contents:
The diagram will indicate the string under the designation "B", for example, B-3-2-1-2-3. This is the name for the bass string on a guitar.
And now you can start parsing!
4 Easy Guitar Picks for Beginners Video
Bust Six, scheme
The "Six" fingering is the most popular fingering on the guitar. It is very simple and consists of 6 movements.
Схема перебора Б-3-2-1-2-3
How does it sound?
Very easy to play, used in many songs.
Busting Eight: types, schemes
There are at least 2 types of Eight fingering on the guitar. Now we will analyze them.
The first type of enumeration Eight
Схема перебора Б-3-2-3-1-3-2-3
sounds like this
It is very popular, used, for example, in the song "I'll buy you a new life."
---
The second type of enumeration Eight
Схема перебора Б-3-2-3-1-2-3-2
sounds like this
this enumeration, I honestly don't know where it is used, but it exists
Search Four: types, schemes
I have found at least 6 different types of fingering Fours on the guitar, but don't worry – it's not that popular and in my opinion it's not necessary to learn it at all.
| | | |
| --- | --- | --- |
| B-3-2-1 | B-3-1-2 | B-2-3-2 |
| B-1-2-3 | B12-3-12-3 | B-3-12-3 |
To be honest, I would not learn these searches. If you are a beginner, don't even bother, they are rarely used! The most popular and necessary searches are the Eight and the Six.
Waltz enumeration
Let's analyze one more enumeration – waltz, played at the pace of a waltz 🙂
Enumerating scheme B-123-123
(another version of B-12-12)
sounds like this
sounds pretty good, used, for example, in the song Bending the Yellow Guitar
What is bust and how to play bust?
Any guitarist should know:
what are busts;
how to play guitar plucking;
basic busts.
Picking is the kind of thing that needs to be learned either at the same time as playing the guitar, or after it. In any case, you should already be familiar with the basic chords for beginners.
Guitar picking differs from fighting in that plucking the strings twitch in turn.
How to play guitar plucking? We must take turns pulling (plucking) one or more strings.
Most often, guitar picks are played in such a way that the strings twitch one at a time. In general, the picking itself is a pattern of string plucking. For example, typing "4-3-2-1-2-3" means that we pull the 4th string > 3rd string > 2nd string and so on, in turn.
Basic rules and notes on how to play bust:
Fingering is good for developing finger motor skills. In further learning to play the guitar, you will have to study tablature, where you may need to pick. Moreover, by learning how to play busts, you will develop the speed of playing with the fingers of your right hand, which is good for further learning.
3 Fights EVERY Video Guitarist Should Know
Publication date: 20.09.2018Views: 422764
Please share this page, it means a lot to me!!
Комментарии (6)
6
22211

16: 42, 26.11.2020
ahah… you know that there is no audio, right?
5
Edward Rackler
09: 11, 19.02.2020
and what chords to play in these songs intermittently?
4
Ilya Evstratov
22: 41, 12.01.2020
3
Ilyas Bekenov

08: 30, 31.08.2019
Clearly
2
Anka Zaremba
16: 42, 21.03.2019
I am infinitely grateful! Very understandable! Fell in love with waltz
1
Tatyana Lapushkina

18: 29, 12.02.2019
Thank you so much for helping me learn guitar