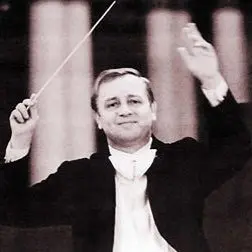 Stepan Vasilyevich Turchak (Turchak, Stepan) |
Turchak, Stepan
Date of birth
1938
Date of death
1988
Profession
conductor
Country
the USSR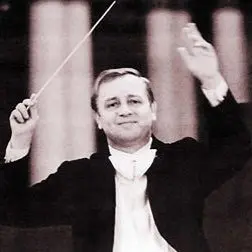 People's Artist of the USSR (1977). At twenty-five years of age, becoming the chief conductor of a republican orchestra does not happen often. And if, moreover, it is the State Orchestra of Ukraine, a group with rich traditions, at the podium of which stood the most prominent Soviet conductors, then the appointment of young Stepan Turchak can be considered a truly unique event. Nevertheless, he managed to justify the hopes placed on him.
Turchak had already performed in many cities of the Soviet Union and abroad, and in early 1967 he held three concerts in Moscow with the State Orchestra of Ukraine. In a review of these evenings, musicologist I. Golubeva noted: "Turchak's great performing temperament is combined with a well-developed sense of proportion. He has an elegant gesture, he subtly feels the form of a musical phrase, a change of tempo… The clarity with which the conductor embodies his ideas, the scrupulousness in finishing the details testify to the mature professionalism, to the deep devotion of the musician to his work."
Turchak came to Kyiv from Lvov. There he graduated in 1962 from the Conservatory in the class of N. Kolessa and received his initial experience at the Lvov Opera and Ballet Theater named after I. Franko. In the capital of Ukraine, he was first a trainee conductor of the State Orchestra, and in 1963 he headed it. The largest works of the world classics were more and more often side by side on Kyiv posters with examples of the work of modern composers – S. Prokofiev, D. Shostakovich, T. Khrennikov, A. Honegger. An important place in the repertoire of the orchestra and the conductor was occupied by Ukrainian music – symphonies by B. Lyatoshinsky, A. Shtogarenko, G. Taranov, V. Hubarenko, I. Shamo and others.
However, Turchak's attention was always attracted by musical theater. In 1966, he staged his first performance, Otello by Verdi, on the stage of the Kyiv Opera and Ballet Theater named after T. G. Shevchenko. The debut, despite the complexity of the work, was successful. Since January 1967, Turchak has been the chief conductor of the republic's leading opera house. His repertoire was replenished with "La Boheme", "Carmen", "Swan Lake", the operas "Milan" by G. Maiboroda, "The Death of the Squadron" by V. Gubarenko. Turchak teaches opera and symphony conducting at the Kyiv Conservatory.
L. Grigoriev, J. Platek, 1969