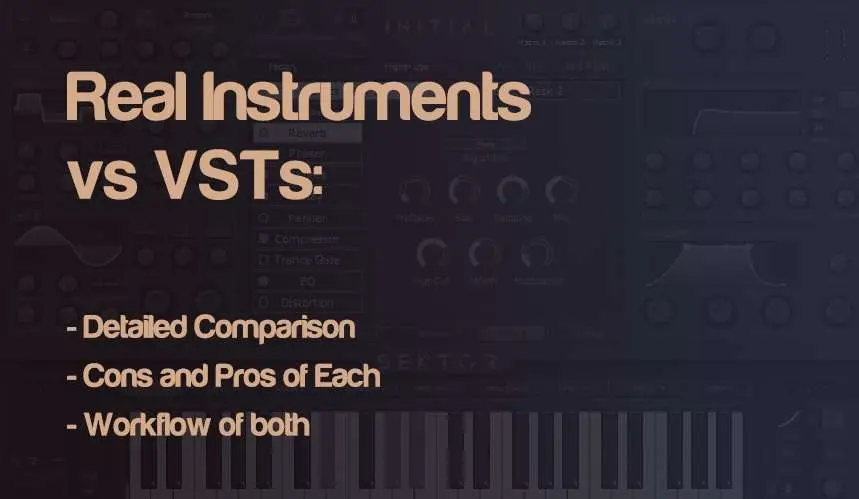 Real instruments or modern VST?
Virtual musical instruments in short "VST" have long passed the exam among professional musicians and amateurs who are just starting their adventure with music production. Undoubted years of development of VST technology and other plug-in formats have resulted in the creation of many excellent works. Virtual musical instruments give a lot of satisfaction in the creative process, they are also very convenient, because they integrate fully with the environment of the platform under which they work.
Genesis In the early days of plug-ins, many "industry" people criticized the sound of VST instruments, claiming that they did not sound the same as "real" instruments. Currently, however, the technology allows to obtain a sound almost identical to that of typical electronic instruments, and this is due to the use of almost identical algorithms as in the physical versions. In addition to high-end sound, the plug-in instruments are stable, subject to automation, and they do not have problems with the time shift of MIDI tracks during playback. So it goes without saying that VST has already become a global standard.
Advantages and disadvantages
Virtual plug-ins have many advantages, but also many disadvantages. Let's list a few of them:
• The connection of individual blocks into specific structures only exists in the form of a software. Since they are saved along with other sequencer settings, they can be recalled and edited at any time. • Software synthesizers typically cost less than hardware instruments. • Their sound can be conveniently edited in a centralized on-screen computer monitor environment.
On the disadvantage side, the following should be noted: • Program synthesizers put a strain on the computer's processor. • Software solutions do not have classic manipulators (knobs, switches).
For some solutions, there are optional drivers that can be connected to a computer via the MIDI port.
In my opinion, one of the most positive features of VST plugins is the possibility of direct processing of the recorded track, so we do not have to record a given part several times in a situation where something goes wrong. This is because the output of the VST instrument is digital sound, you can apply to it all the processing processes available for audio tracks ripped in the sequencer mixer – effect plugs or DSP present in the program (EQ, dynamics, etc.)
The VST instrument output will be recorded to the hard disk as an audio file. It's a good idea to keep the original MIDI track (controlling the VST instrument), and then turn off the VST instrument plug that you no longer need, which may strain your computer's CPU. Before that, however, it is worth keeping the edited instrument timbre as a separate file. This way, if you change your mind about the notes or sounds used in a part, you can always recall the MIDI control file, the previous timbre, re-arrange the part and re-export as audio. This feature is called 'Track Freezing' in many modern DAWs.
The most popular VST
Top 10 plugins in our opinion, in order from 10 to 1:
u-he Diva Waves Plugin u-he Zebra Camel Audio Alchemy Image-Line Harmor Spectrasonics Omnisphere ReFX Nexus KV331 SynthMaster Native Instruments Massive LennarDigital Sylenth1
Native Instruments software, source: Muzyczny.pl
These are paid programs, but for beginners, there are also some free and underrated offers, such as:
Camel Audio – Camel Crusher FXPansion – DCAM Free Comp Audio Damage Rough Rider SPL Free Ranger EQ
and many others…
Summation In today's technology age, it is unusual to use virtual instruments. They are cheaper and also more accessible. Let's also not forget that they do not take up space, we only store them in the memory of our computer and run them when we need them. The market is full of many plugins, and their producers only outdo each other by creating new, allegedly improved versions. All you need to do is search well, and we will find what we need, often at a very attractive price.
I am able to risk a statement that soon virtual instruments will completely oust their physical counterparts from the market. Maybe with the exception of concerts, where what matters is the show, not so much the sound effect.