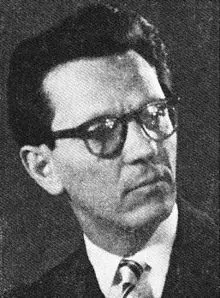 Mircea Basarab
Date of birth
04.05.1921
Date of death
29.05.1995
Profession
composer, conductor
Country
Romania
For the first time, Soviet listeners met Mircea Basarab in the late 1950s, during a tour of the USSR by the Bucharest Symphony Orchestra named after J. Enescu. Then the conductor was still young and had little experience – he stood at the podium only in 1947. True, behind him were not only the years of study at the Bucharest Conservatory, but also considerable composer baggage and even pedagogical work in his "alma mater", where he has been teaching an orchestra class since 1954, and, finally, the brochure "Tools of the Symphony Orchestra" written by him ".
But one way or another, the talent of the young artist was clearly manifested even against the background of such a magnificent master as the then head of the Bucharest Orchestra, J. Georgescu. Basarab conducted a substantial program in Moscow, which included such diverse works as the Symphony of Franck, the Pines of Rome by O. Respighi and the compositions of his compatriots – the First Suite of G. Enescu, Concerto for Orchestra by P. Constantinescu, "Dance" by T. Rogalsky. Critics noted that Basarab is "an extremely gifted musician, endowed with a fiery temperament, the ability to selflessly devote himself to his art."
Since then, Basarab has come a long artistic way, his talent has grown stronger, matured, enriched with new colors. Over the past years, Basarab has toured almost all European countries, participated in major music festivals, and collaborated with the best soloists. He repeatedly performed in our country, both with Soviet orchestras and again with the Bucharest Philharmonic Orchestra, of which he became chief conductor in 1964. "His performance," as the critic notes a decade later, "is still temperamental, has acquired scale, greater depth."
Possessing a rich repertoire, Basarab, as before, pays great attention to the promotion of the compositions of his compatriots. Occasionally, he also performs his own compositions – Rhapsody, Symphonic Variations, Triptych, Divertimento, Sinfonietta.
L. Grigoriev, J. Platek, 1969