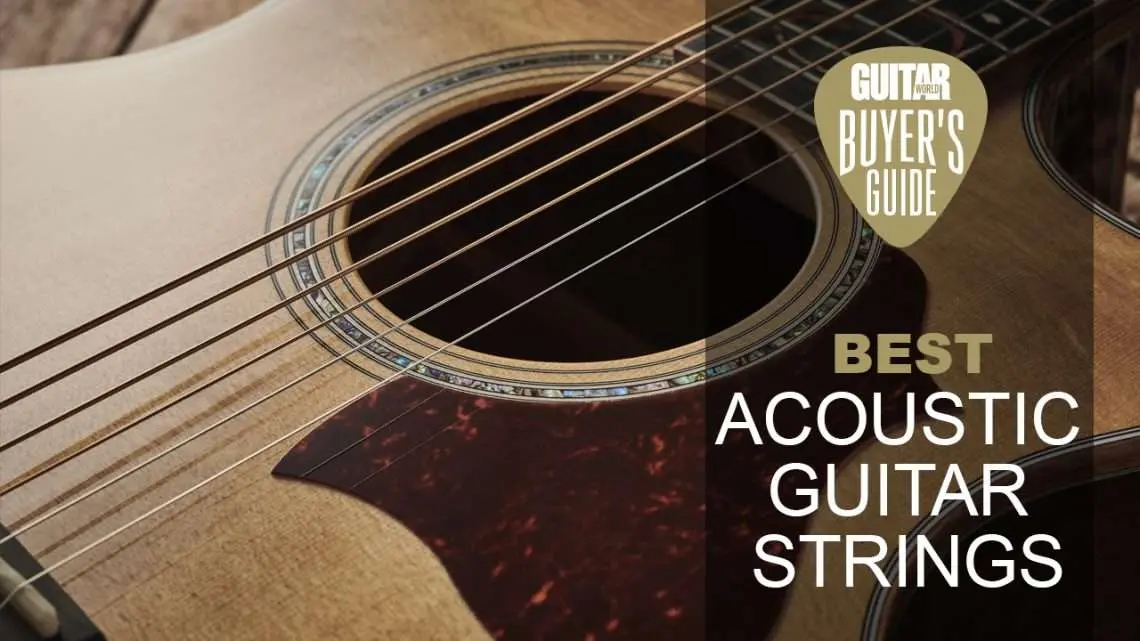 Let's figure out which strings are best for acoustic guitar
Playing a plucked instrument is impossible without strings. Most often they are developed from metal – their sound is richer and louder than their synthetic counterparts. For a string, you can take a wire or fishing line that does not deteriorate with repeated use. But the sound of the instrument, regardless of the number of strings, would be the same.
Therefore, to give them a unique sound, a winding is used, which is developed from different materials.
String dimensions and thickness
They are divided into three main types depending on the thickness:
Thin – suitable for beginners. When you press them, the fingers do not get tired, but the sound is quiet.

Medium thickness – also good for beginners, as they produce a high-quality sound and are easily clamped in the

fret

.

Thick – suitable for experienced musicians, as they require effort when playing. The sound is rich and rich.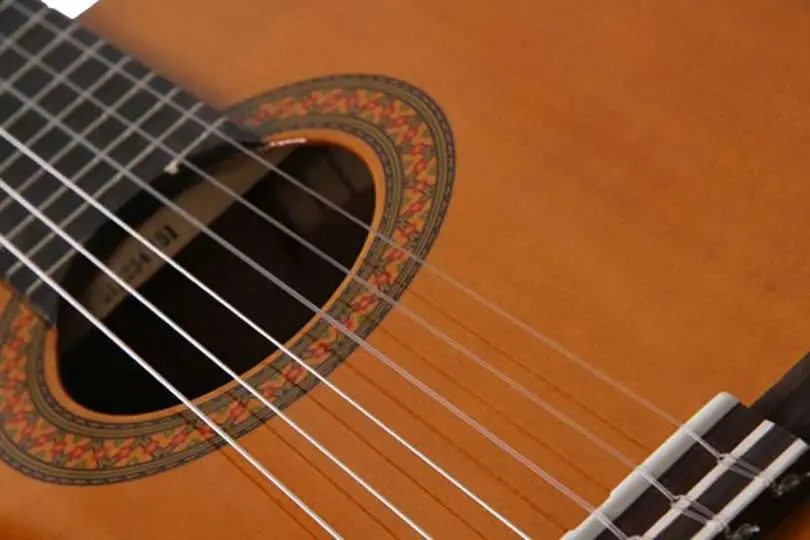 To easily reproduce sound, it is worth buying thick kits:
0.10 – 0.48 mm;

0.11 – 0.52 mm.
The 0.12 – 0.56 mm products produce a surround sound, but they are hard, which makes it difficult to clamp. To make playing easier, the strings are omitted.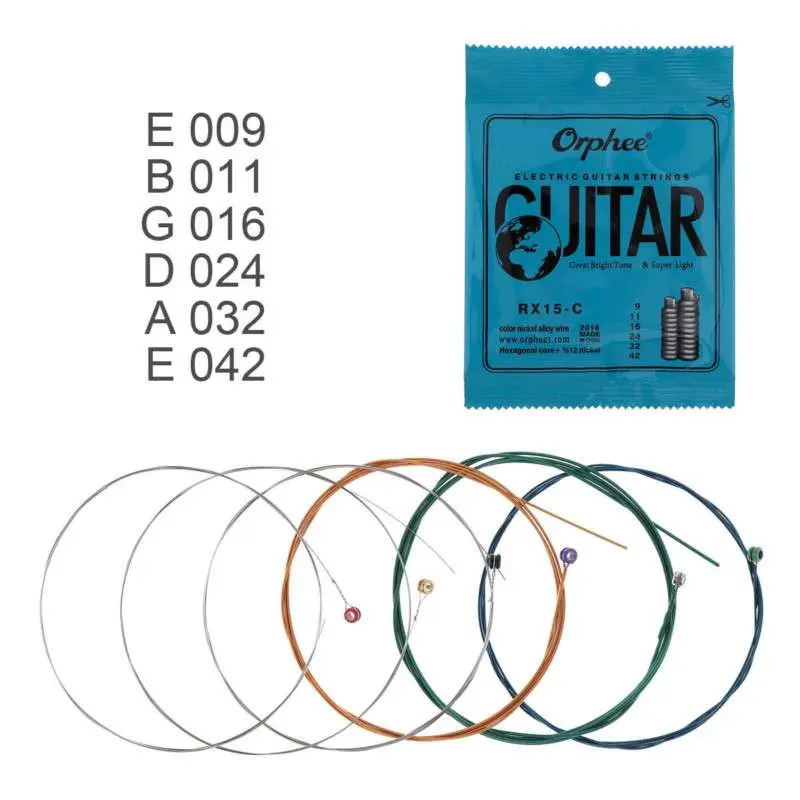 string core
It is made from carbon steel. By type of section are:
round;

hex cores. They fix the winding better than round ones.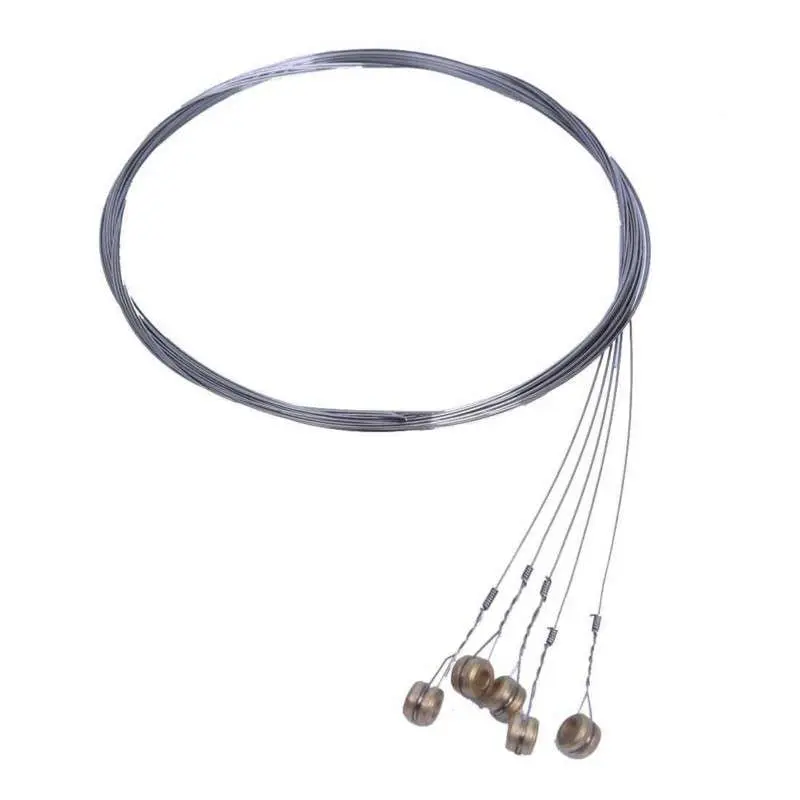 Winding material
Here are the types of guitar strings according to the winding material:
Bronze

– used in two varieties: phosphorus and yellow. The first gives a deep and clear sound, the second makes it loud, endows it with percussion and a characteristic "clatter"

.

Phosphor bronze is more durable than yellow bronze, which tends to turn green over time.

Copper

– gives the strings a clear sound, costs less than bronze.

Silver

– sounds loudly on finger picks or

picks

. These strings are thin, so when played with a strike they do not give such a voluminous and powerful sound as bronze ones.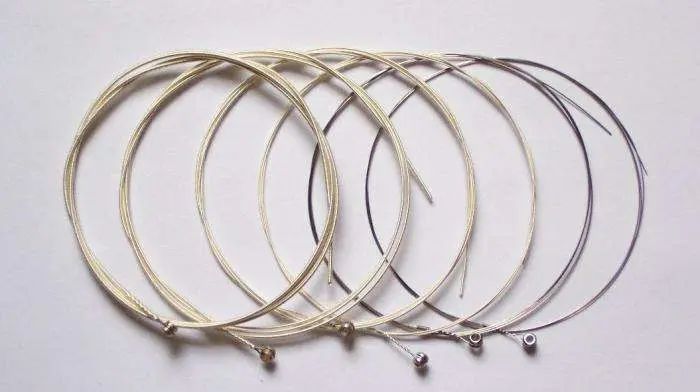 String winding type
The winding affects bass sound, string life, and ease of playing. It comes in two varieties:
Round

– the usual winding, simple and standard. The strings sound bright and loud, so this option is used everywhere.

The timbre

is rich and rich. The disadvantage is that the noise from sliding fingers on the ribbed surface of the strings is heard by the audience.

Flat

– gives the sound a muffled and "matte" due to a flat and smooth surface. The core is first covered with a round wire, then with a flat tape. A guitar with such strings is suitable for playing

jazz

, rock and roll or swing melodies.

Semicircular

– this is the usual round winding, which has been polished by 20-30%. Such strings sound soft, do not provoke noise from the movement of the fingers, wear out the

neck

less .
Best Acoustic Strings
Experienced guitarists advise choosing the following best acoustic guitar strings:
Elixir Nanoweb 80/20 Bronze

– these strings sound clean and rich, resistant to corrosion and dirt, do not make noise from friction with fingers, and are used for a long time. They are recommended for studio recording or live performances.

D'Addario EJ16 12-53

Phosphor Bronze – Suitable for daily playing and stage performances. The strings sound warm, durable, and accompany vocals perfectly.

D'Addario EJ17 13-56

Phosphor Bronze – Suitable for large

dreadnoughts

. They sound bright, distinct and stable without a

mediator

, and are durable. These strings are universal.

La Bella C520S Criterion Light 12-52

– the bass strings of this manufacturer are made of phosphor bronze, and the top strings are made of steel. Among their advantages is a soft and sonorous sound; they are quiet, providing a richness of overtones.

D'Addario EZ920 85/15 12-54

bronze – pronounced bass tones play, and the sound is persistent. These strings are suitable for strumming, playing music in any style.
These and other great guitar solutions are presented in our store
Strings for other guitars
For example, for an electric guitar, strings are suitable:
Ernie Ball PARADIGM;

Dunlop Heavy Core;

D'Addario NYXL;

Rotosound Roto;

Jim Dunlop Rev Willy's Electric Strings.
For bass guitar you will need:
Ernie Ball and D'Addario Nickel Wound Regular Slinky 50-105;

Elixir NanoWeb 45-105.
What type of strings should not be used
There are no clear restrictions on the installation of strings. It is preferable to put metal products, you can use nylon strings for classical guitar.
Do not install strings for other types of guitars on an acoustic instrument.
What our store offers – which strings are better to buy
You can buy Ernie Ball P01220 20-gauge nickel string from us, a set of 10 D'Addario EJ26-10P strings, where the thickness of products is 011 – 052. Our store sells sets 010-050 La Bella C500 with steel upper and lower strings – the latest additionally wrapped with bronze; Elixir NANOWEB 16005 , engineered from phosphor bronze for a rich sound; D'Addario PL100 steel string set.
Notable guitarists and the strings they use
Popular performers prefer strings from well-known brands. This is not surprising, because the patented technologies, secret techniques and proprietary technologies that every reputable manufacturer uses to produce strings guarantee high quality playing.
In search of an answer to the question of which strings are best to buy for a classical guitar, you should pay attention to the products of such companies:
Ernie Ball – the strings of this manufacturer have earned the most attention of famous guitarists. For example, John Mayer, Eric Clapton and Steve Vai used the Regular Slinky 10-46. Jimmy Page, Jeff Beck, Aerosmith and Paul Gilbert favored the Super Slinky 9-42. And Slash, Kirk Hammett and Buddy Guy used Power Slinky 11-48.

Fender – Mark Knopfler, Yngwie Malmsteen and Jimi Hendrix used products from this company.

D'Addario – these strings were preferred by Joe Satriani, Mark Knopfler, Robben Ford.

Dean Markley – worn by Kurt Cobain and Gary Moore.
Guided by the preferences of popular performers, you can choose acoustic guitar strings.
Interesting Facts
Guitar strings can be multi-colored . They are no different from ordinary products, except for an unusual appearance.
FAQ
| | |
| --- | --- |
| 1. What is the best material for acoustic guitar strings? | From metal. |
| 2. What are the types of guitar strings? | Depending on the thickness, material and type of winding. |
| Which companies make acoustic guitar strings? | Ernie Ball, D'Addario La Bella and others. |
Summing up
There are several criteria by which they determine which strings are best used for an acoustic or classical guitar. Due to differences in thickness, sizes, types and other characteristics, different instruments receive an unequal sound.