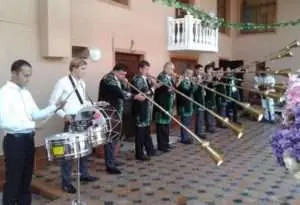 Punish – This is a musical wind instrument, widely distributed in countries such as Iran, Tajikistan and Uzbekistan. It is a long, copper pipe about 2 meters long. Consists of 3 parts, convenient for transportation.
Karnay is a very ancient instrument, during the excavations of the tomb of Tutankhamen, a long pipe with wooden inserts was discovered, it was a prototype of a modern instrument,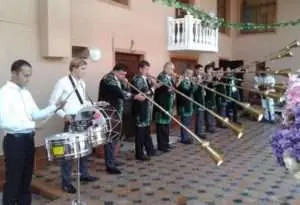 though not much different from today. In ancient times, it served people as a military tool. He was the herald of war. According to some studies, Karnay is one of the three pipes that accompanied the troops of Tamerlane, Genghis Khan, Darius to the war, the instrument was supposed to inspire the soldiers, kindle a fire in their hearts. In civilian life, it was used as a device for declaring a fire or war; in some settlements, it was they who were notified of the arrival of a herald.
Modern time has greatly changed the idea of ​​​​Karnay, his participation in the lives of ordinary people has also changed. Now it is used in various ceremonies and celebrations; at the announcement of the beginning and end of sports games, in the circus and even at weddings.
The sound of Karnay does not exceed an octave, but in the hands of the master, the music pouring from him turns into a real work of art. In fact, this device can hardly be called musical, it rather belongs to the family of signal instruments. If we compare it with other products, then the trombone is closest to it. Karnay usually plays with Surnay and Nagor, but he rarely performs solo.