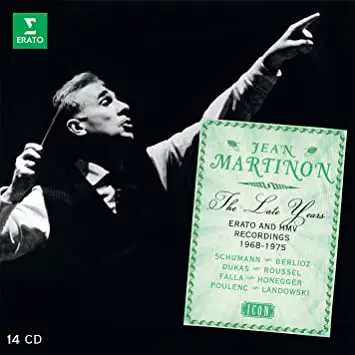 Jean Martinon (Martinon, Jean) |
Martinon, Jean
Date of birth
1910
Date of death
1976
Profession
composer, conductor
Country
France
The name of this artist attracted general attention only in the early sixties, when he, for many, rather unexpectedly, led one of the best orchestras in the world – the Chicago Symphony, becoming the successor to the deceased Fritz Reiner. Nevertheless, Martinon, who by this time was fifty years old, already had a wealth of experience as a conductor, and this helped him justify the trust placed in him. Now he is rightly called among the leading conductors of our time.
Martinon is a Frenchman by birth, his childhood and youth were spent in Lyon. Then he graduated from the Paris Conservatory – first as a violinist (in 1928), and then as a composer (in the class of A. Roussel). Before the war, Martinon was mainly engaged in composition, and in addition, to earn money from the age of seventeen, he played the violin in a symphony orchestra. During the years of the Nazi occupation, the musician was an active participant in the Resistance movement, he spent about two years in Nazi dungeons.
Martinon's conducting career began almost by accident, immediately after the war. One well-known Parisian maestro once included his First Symphony in the program of his concert. But then he decided that he would not have time to learn the work, and suggested that the author conduct himself. He agreed, not without hesitation, but coped with his task brilliantly. Invitations poured in from everywhere. Martinon conducts the orchestra of the Paris Conservatory, in 1946 he already becomes the head of the symphony orchestra in Bordeaux. The name of the artist is gaining fame in France and even beyond its borders. Martinon then decided that the acquired knowledge was not enough for him, and improved under the guidance of such prominent musicians as R. Desormieres and C. Munsch. In 1950 he became permanent conductor, and in 1954 director of the Lamoureux Concertos in Paris, and also began touring abroad. Before being invited to America, he was the leader of the Düsseldorf Orchestra. And yet Chicago was truly a turning point in the creative path of Jean Martinon.
In his new post, the artist did not show repertoire limitations, which many music lovers feared. He willingly performs not only French music, but also Viennese symphonists – from Mozart and Haydn to Mahler and Bruckner and Russian classics. Deep knowledge of the latest means of expression (Martinon does not leave the composition) and modern trends in musical creativity allows the conductor to include the latest compositions in his programs. All this led to the fact that already in 1962 the American magazine Musical America accompanied a review of the conductor's concerts with the headline: "Viva Martinon", and his work as head of the Chicago Orchestra received a very favorable assessment. Martinon in recent years does not leave touring activities; he participated in many international festivals, including the Prague Spring in 1962.
L. Grigoriev, J. Platek, 1969