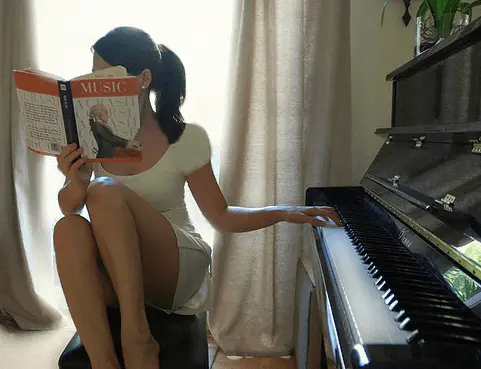 How to learn to play the piano yourself?
Playing your favorite tunes, learning songs from movies, entertaining friends at parties, and even just helping your child learn music are some of the reasons to learn to play the piano on your own. Moreover, now there are digital instruments that do not clutter up the room, have headphone outputs and allow you to play without uninvited listeners.
Learning to play the piano is not as difficult as it seems, but not as easy as, say, rollerblading. You can't do without a couple of expert advice. Therefore, there are a lot of tutorials, video tutorials and other assistants. But whichever program you choose, it is important to know and follow a few rules.
Take the online course

"Piano is easy"

. Perhaps the best piano course in RuNet.
Rule number 1. First theory, then practice.
Most teachers, especially those who work with adults outside the walls of a music school, unanimously say: first theory, then practice !! It is clear that reading literature is far from being as interesting as pressing keys. But if you, especially at first, combine practice and theory equally, then your learning will not come to a standstill after learning a few pop tunes. You will be able to develop in the field of playing the instrument, and sooner or later the moment will come when you will pick up your favorite tunes by ear, create arrangements and even compose your own music.
What is especially important in theory:
1. Music notation . This is a way of conveying sounds using signs on paper. This includes notation of notes, durations, tempo a, etc. This knowledge will give you the opportunity to sight-read any piece of music, especially since it is not a problem to find notes of popular melodies now. With knowledge of musical notation, you can learn anything you want – from the American anthem to Adele's songs.
We have a good basic course on our site to achieve goal #1 – "Piano Basics".
2. Rhythm and pace . Music is not just a set of sounds, it is also the order in which they are performed. Any melody obeys some kind of rhythm. Correctly building a rhythmic pattern will help not only training, but also elementary knowledge about what rhythm is, how it happens and how to create it. Rhythm and tempo data in another basic course – Music Fundamentals .
3. Harmony. These are the laws of combining sounds with each other in such a way that it turns out beautifully and pleasantly for hearing. Here you will learn different keys, intervals and scales, the laws of building chords , combinations of these chords , etc. This will help you understand how to independently choose an accompaniment for a melody, create an arrangement, pick up a melody by ear, etc.
​After you practice translating melodies into different keys, picking up accompaniment, the doors to the world of beautiful music, including those composed by yourself, will open before you. There are also tutorials for the kind of master you will become, such as Improvisation on Digital Keyboards .
Rule number 2. There should be a lot of practice!
You need to train a lot and often, the best thing is every day! Experienced teachers say that daily classes, even for 15 minutes, are better than 2-3 times a week for 3 hours. If in 15 minutes you still do not have time to study a lot, divide the work into parts and study in pieces, but every day!
Treat training like an athlete treats training! Set aside time when you won't be disturbed and when you will definitely be at home, for example, in the morning before work or in the evening an hour before bedtime (headphones are very useful here). And do not cancel classes, otherwise it will be more difficult to return to them later, and the result is a loss of form and all that you have gained.
What to do in practice:
Learn melodies from notes

. Once you have mastered musical notation, download the sheet music of your favorite tunes from the Internet – and learn them until you can play without prompting and at the right

tempo

.

Play with an orchestra

. Many digital pianos have this feature: orchestral accompaniment to certain melodies is recorded. You can learn these melodies and play them with an orchestra to develop

tempo

, rhythm, and ability to play in a group.

"Shift" to other keys

. Once you've mastered the harmonies, you can transpose pieces into other keys, choose different accompaniments for them, and even create your own arrangements.

Play gamma every day!

This is a great exercise for training your fingers and memorizing keys!
Rule number 3. Inspire yourself!
We talked about this when we gave advice on teaching music to children (read
here
). But it works with adults too.
Once the novelty wears off, the real work begins and becomes difficult. Often there will not be enough time, you will want to reschedule the lesson for tomorrow, and then for the weekend – and more than once! This is where it is important to inspire yourself.
What to do? Watch videos with your favorite musicians, listen to music that takes your breath away, learn those melodies that make you really "rush"! You need to play and create something that you yourself are interested in listening to.
Once you get something worth playing, play with family and friends, but only to those who will praise you. Critics and "specialists" kick out! The purpose of these "concerts" is to increase your self-esteem, not to abandon classes.