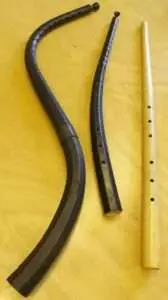 cornet – a brass wind instrument looks like a pipe, but unlike it, it does not have valves, but caps.
Ancestors cornets
The cornet owes its appearance to wooden horns, which were used by hunters and postmen to signal. In the Middle Ages, another predecessor appeared – a wooden cornet, it was used in jousting tournaments and at city festivities.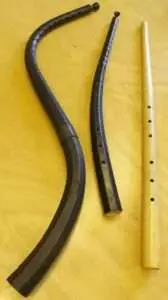 It was especially popular in Europe – in England, France and Italy. In Italy, the wooden cornet was used as a solo instrument by famous performers – Giovanni Bossano and Claudio Monteverdi. By the end of the 18th century, the wooden cornet was almost forgotten. To date, it can only be heard at concerts of ancient folk music.
In 1830, Sigismund Stölzel invented the modern brass cornet, the cornet-a-piston. The tool had a piston mechanism, which consisted of push buttons and had two valves. The instrument had a wide range of tonalities up to three octaves, unlike the trumpet, it had more opportunities for improvisation and a softer timbre, which made it possible to use it both in classical works and in improvisations.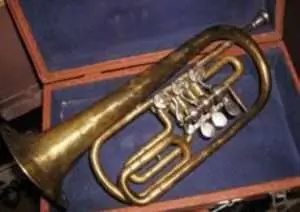 In 1869, at the Paris Conservatory, courses for learning to play a new instrument appeared. In the 19th century, the cornet came to Russia. Tsar Nicholas I Pavlovich masterfully played various wind instruments, including the cornet. He most often performed military marches on it and held concerts in the Winter Palace for a narrow number of listeners, most often relatives. A.F. Lvov, a famous Russian composer, even composed a cornet part for the tsar. This wind instrument was used in their works by great composers: G. Berlioz, P.I. Tchaikovsky and J. Bizet.
The role of the cornet in the history of music
The famous cornetist Jean-Baptiste Arban made a huge contribution to the popularization of the instrument around the world. In the 19th century, the Parisian conservatories opened courses in playing the cornet-a-piston en masse.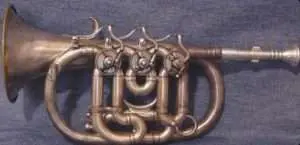 The solo performed by the cornet of the Neopolitan dance in "Swan Lake" by P.I. Tchaikovsky and the dance of the ballerina in "Petrushka" by I.F. Stravinsky. The cornet was also used in the performance of jazz compositions. The most famous musicians who played the cornet in jazz ensembles were Louis Armstrong and King Oliver. Over time, the trumpet replaced the jazz instrument.
The most famous cornet player in Russia was Vasily Wurm, who wrote the book "School for cornet with pistons" in 1929. His student A.B. Gordon composed several studies.
In today's musical world, the cornet can almost always be heard at brass band concerts. In music schools, it is used as a teaching instrument.