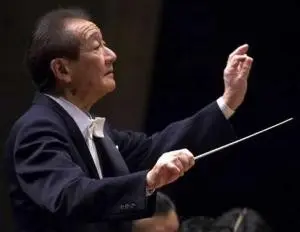 Hiroyuki Iwaki (Iwaki, Hiroyuki) |
Iwaki, Hiroyuki
Date of birth
1933
Date of death
2006
Profession
conductor
Country
Japan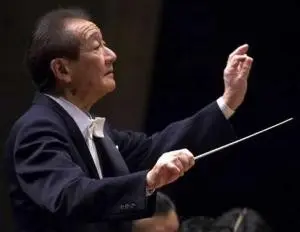 Despite his youth, Hiroyuki Iwaki is undoubtedly the most famous and most frequently performed Japanese conductor both at home and abroad. On the posters of the largest concert halls in Tokyo, Osaka, Kyoto and other cities of Japan, as well as most countries in Europe, Asia and both Americas, his name, as a rule, is adjacent to the names of contemporary authors, primarily Japanese ones. Iwaki is a tireless promoter of modern music. Critics have calculated that between 1957 and 1960, he introduced Japanese listeners to about 250 works that were new to them.
In 1960, becoming the artistic director and chief conductor of the best NHC orchestra in the country, the Japan Broadcasting Company, Iwaki developed an even wider touring and concert activity. He annually gives dozens of concerts in the largest cities of Japan, tours in many countries with his team and on his own. Iwaki is regularly invited to participate in contemporary music festivals held in Europe.
At the same time, interest in modern music does not prevent the artist from feeling very confident in the vast classical repertoire, which was noted by Soviet critics during his repeated performances in the cities of our country. In particular, he conducted Tchaikovsky's Fifth Symphony, Sibelius's Second, Beethoven's Third. The magazine "Soviet Music" wrote: "His technique is not at all designed for external showiness. On the contrary, the conductor's movements are stingy. At first it even seemed that they were monotonous, insufficiently assembled. However, the concentration of the opening of the first part of the Fifth Symphony, the alertness only "on the surface" of the calm, actually agitated pianissimo in the main theme, the passion for forcing in the Allegro exposition showed that we have a master who knows how to convey any intentions to the orchestra, a real artist – a deep, thinking capable of penetrating in a special way into the innermost, which is the essence of the music being performed. This is an artist of bright temperament and, perhaps, even increased emotionality. His phrasing is often more tense, more convex than you might expect. He freely, more freely than we usually do, varies the pace. And at the same time, his musical thinking is strictly organized: Iwaki is endowed with taste and a sense of proportion.
L. Grigoriev, J. Platek, 1969