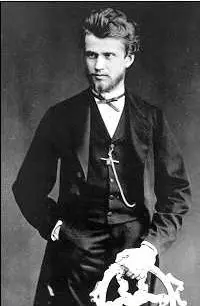 Eduard Frantsevich Napravnik |
Eduard Nápravník
Date of birth
24.08.1839
Date of death
23.11.1916
Profession
composer, conductor
Country
Russia, Czech Republic
Guide. "Harold". Calm down, dear (M. May-Fiegner)
Napravnik entered the history of Russian music as a remarkable conductor and talented composer. He owns 4 operas, 4 symphonies, orchestral pieces, a piano concerto, chamber ensembles, choirs, romances, compositions for pianoforte, violin, cello, etc. As a composer, Napravnik did not have a bright creative personality; his works are marked by the influence of various composers and, more than others, by Tchaikovsky. However, Napravnik's best work, the opera Dubrovsky, has major artistic merit; She brought the author well-deserved fame.
Eduard Frantsevich Napravnik, a Czech by nationality, was born on August 12 (24), 1839 in Bohemia (in the village of Beishta, near Kenigrets). His father was a school teacher, church choir director and organist. The future composer was educated at the Organ School in Prague. In 1861, Napravnik moved to St. Petersburg, where he found his second home. Two years later he became a tutor and organist at the Mariinsky Theatre. From 1869 until the end of his life, Napravnik remained the chief conductor of this theatre; he also performed as a conductor of symphony concerts of the Russian Musical Society.
At the Mariinsky Theater under the direction of Napravnik, 80 operas were studied and staged. While the theatrical management, reflecting the tastes of aristocratic circles, preferred Italian opera, he tirelessly promoted the work of Russian composers. He staged the first productions of operas by Dargomyzhsky, Mussorgsky, Rimsky-Korsakov (Tchaikovsky, Rubinstein, Serov; Glinka's opera Ruslan and Lyudmila was first performed uncut and distorted under Napravnik's baton.
Napravnik also staged his own operas at the Mariinsky Theatre: The Nizhny Novgorod People (libretto by P. I. Kalashnikov, 1868), Harold (based on the drama by E. Wildenbruch, 1885), and Dubrovsky (based on the story by A. S. Pushkin, 1894 ) and "Francesca da Rimini" (based on the tragedy by S. Philipps, 1902).
Napravnik died in St. Petersburg on November 10 (23), 1916.
M. Druskin
Eduard Napravnik at the Imperial Russian Opera →
---
Russian composer and conductor, Czech by nationality, lived in St. Petersburg from 1861. From 1867 he was a conductor at the Mariinsky Theater (in 1869-1916 he was chief conductor). Carried out the 1st production of a number of operas. Among them are "The Stone Guest" by Dargomyzhsky (1872); "Pskovite" (1873), "May Night" (1880), "Snow Maiden" (1882) Rimsky-Korsakov; Boris Godunov by Mussorgsky (1874), The Demon by Rubinstein (1875), The Maid of Orleans (1881), The Queen of Spades (1890), Iolanthe (1892) by Tchaikovsky; works by Cui, Serov.
Among the 1st productions of foreign operas are Faust (1869), Carmen (1885), Verdi's Othello (1887) and Falstaff (1894), Wagner's tetralogy Der Ring des Nibelungen (1900-05) and others.
Among the works of Napravnik, the greatest success fell on the opera Dubrovsky (1894), which remained on the stages of theaters. Of the others, we note "Francesca da Rimini" (1902, St. Petersburg). In general, Napravnik's work as a composer does not have the same significance for Russian culture as his activity in the conductor's field.
E. Tsodokov