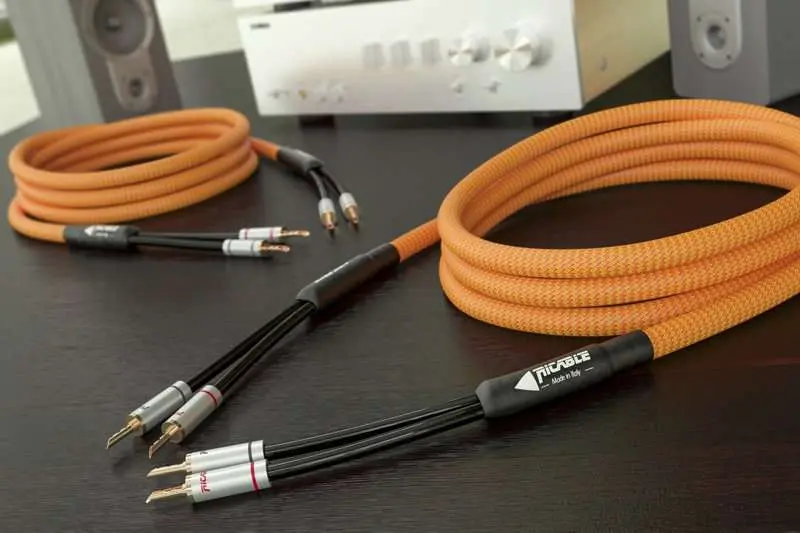 Choosing the right cabling for our audio equipment
Cables are an essential component of any audio system. Our devices must "communicate" with each other. This communication usually takes place via appropriate cables, the selection of which may not be as simple as we think. Manufacturers of audio equipment make this task difficult for us by using many types of plugs and sockets, and there are also many different dependencies that we usually do not take into account.
Our purchases usually begin with the identification of a given plug with which the device has been equipped. Because standards are constantly changing over time, it often happens that the cables we used to use today will not work with our new equipment.
Speaker cables
In simpler systems, we use ordinary "twisted-pair" cables, ie the cables are not terminated with any plug, they are screwed to the loudspeaker / amplifier terminals. It is a solution popularly used in home appliances.
When it comes to stage equipment, cables with 6,3 and XLR jack plugs were used in the past. The current standard is Speakon. Compared to its predecessors, the plug is characterized by high mechanical strength and a blockade, so it cannot be simply unplugged accidentally.
When choosing a speaker cable, first of all, we should pay attention to:
• Thickness and internal diameter of the cores used
If appropriate, it will reduce power losses to a minimum and the possibility of overloading the cable, which results in damage in the form of charring or burning, and, as a last resort, a break in the communication of the equipment.
• Mechanical strength
At home, we do not take it into account too much, so in the case of stage applications, cables are exposed to frequent winding, unfolding or trampling, weather conditions. The basis is thick, reinforced insulation and increased flexibility.
Speakon cables are used only for the connection between the power amplifier and the amplifier. They are not as versatile (due to their construction) as the other cables described below.
Speakon connector, source: Muzyczny.pl
Signal cables
In domestic conditions, the most commonly used cables with Chinch plugs have remained unchanged. Sometimes you can find the popular big Jack, but the most common is the additional headphone output.
In the case of stage equipment, 6,3 mm jack plugs were used in the past and, occasionally, Chinch plugs. Currently, XLR has become the standard (we distinguish two types, male and female XLR). If we can choose a cable with such a plug, it is worth doing it because of:
• Release lock
Only female XLR has it, the principle of the blockade is similar to that of the Speakon. Usually, however, the cables that we need (mixer – microphone, mixer – power amplifier connections) are terminated with a female XLR with a lock. Thanks to the lock, it is practically impossible to disconnect the cable by yourself.
It is also worth emphasizing that although the lock is only in the female part, by pairing the cables we block the possibility of accidentally disconnecting the entire connector.
• Greater resistance to damage compared to other plugs
It has a more massive, solid and thicker structure, which makes it more resistant to mechanical damage compared to other types.
XLR connector, source: Muzyczny.pl
The most popular applications of cables:
• Chinch-chinch signal cables are most often used in the case of:
– connections in the console (openers – mixer)
– mixer connections to an external audio interface
– Signal cables of the chinch type – jack 6,3 are most often used in the case of:
– mixer / controller connections equipped with a built-in audio interface with a power amplifier
• Signal cables 6,3 – 6,3 jack type are most often used in the case of:
– mixer connections with a power amplifier
– combinations of instruments, guitars
– other audio devices, crossovers, limiters, graphic equalizers, etc.
• Signal cables 6,3 – XLR female are most often used in the case of:
– connections between the microphone and the mixer (in the case of less complex mixers)
– mixer connections with a power amplifier
• Signal cables XLR female – XLR male are most often used in the case of:
– connections between the microphone and the mixer (in the case of more complex mixers)
– mixer connections with a power amplifier
– connecting the power amplifiers to each other (signal bridging)
We also often come across various "hybrids" of cables. We create specific cables as we need them. Everything is conditioned by the type of plugs that are present in our equipment.
By the meter or ready?
Generally, there is no rule here, but if we are not predisposed to create our own, it is worth buying a finished product. If we do not have the proper soldering skills ourselves, we can create unstable, susceptible to damage connections. When buying a finished product, we can be sure that the connection between the plug and the cable has been properly made.
Sometimes, however, the store's offer does not include a cable with the plugs and lengths we are interested in. Then it is worth trying to construct yourself.
Summation
Cables are a very important part of our audio system. Usually they are damaged due to their frequent use. When selecting a cable, it is worth paying attention to a number of parameters, including plug type, mechanical resistance (insulation thickness, flexibility), voltage strength. It is worth investing in durable, good-quality products due to repeated use in various, usually difficult conditions.