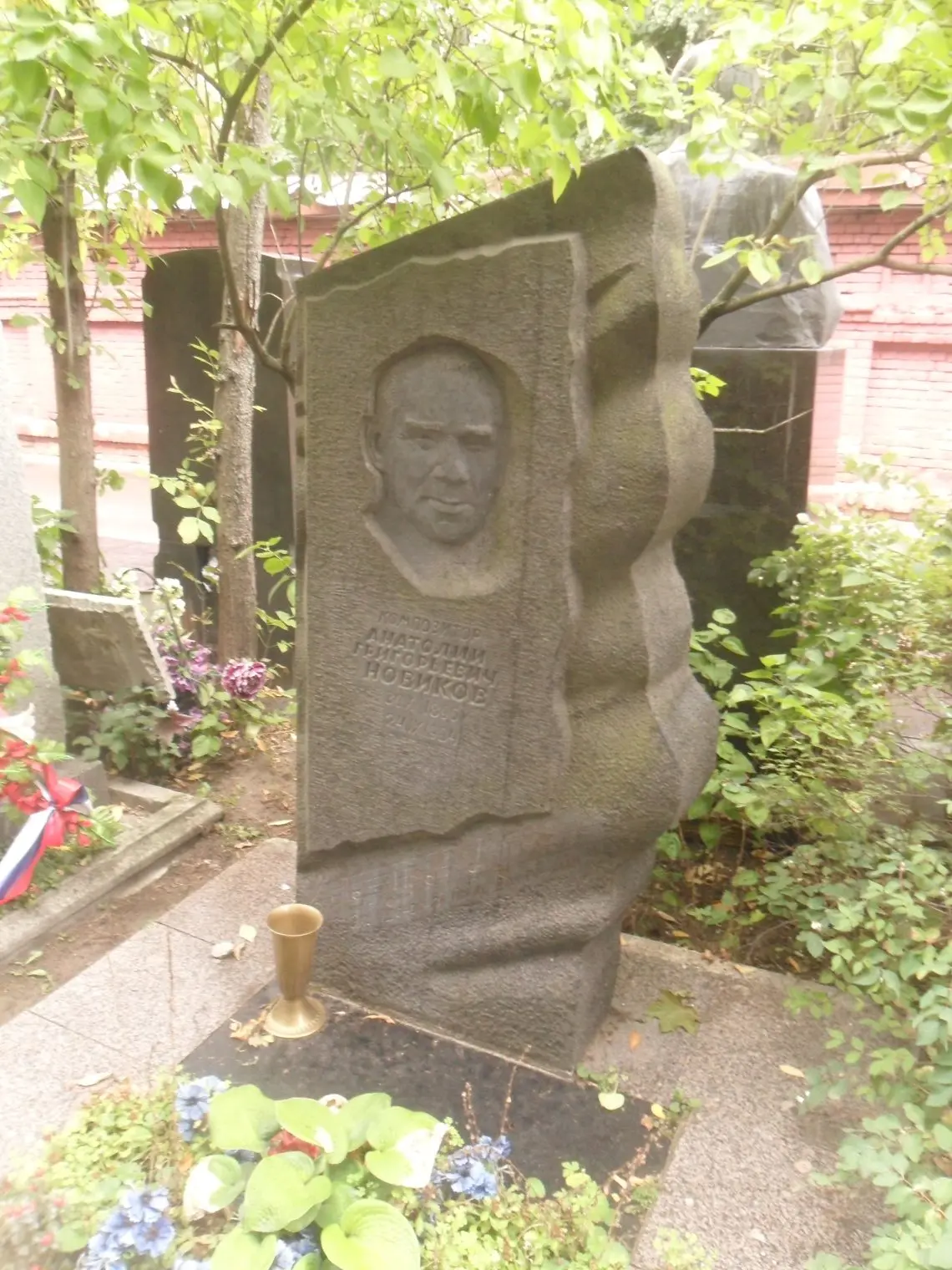 Anatoly Novikov (Anatoly Novikov) |
Anatoly Novikov
Date of birth
30.10.1896
Date of death
24.09.1984
Profession
composer
Country
the USSR
Novikov is one of the greatest masters of the Soviet mass song. His work is firmly connected with the traditions of Russian folklore – peasant, soldier, urban. The composer's best songs, heartfelt lyrical, marching heroic, comic, have long been included in the golden fund of Soviet music. The composer turned to operetta relatively late, having found new sources for his work in the musical theater.
Anatoly Grigorievich Novikov was born on October 18 (30), 1896 in the town of Skopin, Ryazan province, in the family of a blacksmith. He received his musical education at the Moscow Conservatory in 1921-1927 in the composition class of R. M. Glier. For many years he was associated with the army song and choir amateur performances, in 1938-1949 he led the Song and Dance Ensemble of the All-Union Central Council of Trade Unions. In the prewar years, the songs written by Novikov about the heroes of the civil war Chapaev and Kotovsky, the song "Departure of the Partisans", gained fame. During the Great Patriotic War, the composer created the songs "Five Bullets", "Where the Eagle Spread Its Wings"; the lyrical song "Smuglyanka", comic "Vasya-Cornflower", "Samovars-samopals", "That day is not far off" gained wide popularity. Soon after the end of the war, "My Motherland", "Russia", the most popular lyric song "Roads", the famous "Hymn of the Democratic Youth of the World", awarded the first prize at the International Festival of Democratic Youth and Students in Prague in 1947, appeared.
In the mid-50s, already a mature, popularly recognized master of the song genre, Novikov first turned to the musical theater and created the operetta "Lefty" based on the story by P. S. Leskov.
The first experience was successful. The Lefty was followed by the operettas When You Are With Me (1961), Camilla (The Queen of Beauty, 1964), The Special Assignment (1965), The Black Birch (1969), Vasily Terkin (after based on the poem by A. Tvardovsky, 1971).
People's Artist of the USSR (1970). Hero of Socialist Labor (1976). Laureate of two Stalin Prizes of the second degree (1946, 1948).
L. Mikheeva, A. Orelovich